Best Welder For Home Use and The Top Welders For All Types Of Jobs!
Best Welder - MIG - For Home Use:
There are plenty of Mig welders out there, all with their own great reasons for being used. Some are perfect for the industrial scene, others are great for fabrication shops, some can be found in auto body shops, but which are the best Mig welders for home use?
While the reasons for home use of a Mig welder are varied, there are still a great number of Mig welders seen as the best in their field for home use. These Mig welders are the types that are flexible in a wide number of uses while also being portable and easy to use.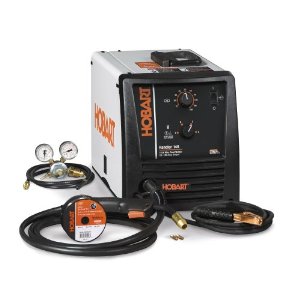 The Hobart Handler 140 MIG welder is the most popular model at this time. And it's an excellent choice.
You can run it on a standard 115v home outlet, and it puts out 140 amps. It doesn't sound like much to a fabrication shop, but when you see the type of welds that it produces you'll be amazed. Really, it's true. First time welders are making beautiful strong welds with it within 20 minutes of taking it out of the box!
And then there is the Lincoln Electric Easy MIG 140 115V Flux Cored MIG Welder. It's right up there with the Hobart except it's a little more expensive. You are just paying for the name. And that means a lot to many welders. Just like if you are Ford man, there are Hobart and Lincoln men (not to mention Miller, and Clarke).
Both of the welder above are great choices.
Today, after much deliberation we have decided which are the best Mig welders for home use and have picked our favorite to show you.
It took a lot of deliberation to decide which welder to choose as the best welder for the home. After all there are so many great Mig welders on the market offering great reasons for and against their being chosen as number one.
The second best welder for mig welding and home use is the Hobart 210 MVP. It has lots of power, it's a high quality welder, and you can plug in into either a 120 Volt or 230 Volt outlet and it'll weld up to 3/8 inch mild steel, but it can also weld 24 guage thin material as well.
The only reason it's getting a second place is because it's more expensive than the 140...
The Hobart 210 mig welder package comes with a good spool gun called the SpoolRunner 100.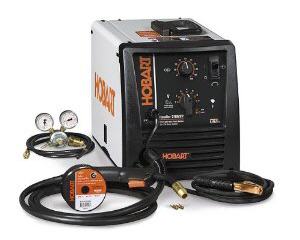 Included In The Hobart 210 Welder Package...
10-Feet (3-meter) H100S4-10 gun
10-Feet (3-meter) work cable with clamp.
Built-in gas solenoid valve and dual-gauge regulator with gas hose
Spool hub assembly accommodates 4 or 8-Inch spools
Sample spool of 0.030-Inch (0.8-mm)
Self-shielding fluxcored wire 0.030-Inch (0.8 mm) contact tips
10-Feet (3-meter) power cord with 5-15P (115 V, 15 A) and 6-50P (230 V, 50 A) MVP plugs
Weld set-up chart
Owner's manual with parts lists, installation, operation and maintenance guidelines.
It's rival is the Millermatic 211 Mig Welder. The only reason we chose the Hobart 210 over the Millermatic 211 is because it's a little bit cheaper but you get the same performance (minus the very cool Auto Set and Smooth Start technology). Otherwise, if you have the extra money, get the Miller 211.
If you can find a Clarke WE6482 MIG105 105 Amp 120 Volt Fluxcore Wire Feed MIG Welder with Cooling Fan, you will be quite happy with your choice. In this case we give it a third place finish (Millermatic 211 being a tie for second place as the best welder with the Hobart 210) as our welder of choice. The reasons for this are simple; this is one Mig welder that pretty much does anything a home welder requires while still being lightweight and portable.
The Clarke WE6482 MIG105 105 Amp 120 Volt Fluxcore Wire Feed MIG Welder with Cooling Fan is not a heavy duty industrial welder, it never professes to be. This welder promises to be the perfect welding companion for the home welder and delivers on its promise; this makes it one of the best Mig welders for home use.
Top Features:
105 amps output
Variable speed wire feed
Welds both MIG and flux-core
Plugs into household 120V, 20 amp outlet
Two voltage settings available offering greater control of heat
Compact, portable, lightweight and easy to use
Great for home repair and hobby projects on light gauge mild steel found around most households
Protection of thermal overload built in
The Clarke WE6482 MIG105 105 Amp 120 Volt Fluxcore Wire Feed MIG Welder with Cooling Fan is a great welder for home uses. It is small, compact and easily carried around whilst also giving a strong and quality weld.
For those new to welding this is one welder that is easy to use too meaning those trying to improve their welding technique will be able to do so with ease using this great Clarke welder. The Clarke WE6482 MIG105 105 Amp 120 Volt Fluxcore Wire Feed MIG Welder is truly one of the best Mig welders for home use.
Overall best welder for a wide range of uses:
If you ask any welder worth his salt what is the best welder, by this we mean the overall best welder for a wide range of uses he will give one of two choices. Both of these choices fit into the same mold of welder and simply depend on the preference of welder brand rather than the actual differences between the two welders.
So what are these two brands? The two brands in question are Miller and Lincoln Electric, interestingly many feel these two brands are like supporting your favorite teams. Miller Mig welders always come in a blue casing while Lincoln Electric always come in a red casing so it is a matter of whether you are a lover of the blue brand or red.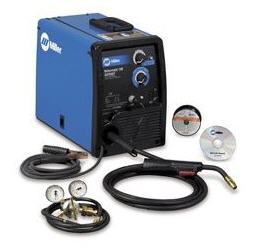 Both the best welders for overall use from both brands are actually in the lower price category and have similar features.
Here Is The Best Welder For All Kinds Of Welding Projects!
Taking into account there are now two to choose from, one being the Miller 907335 Millermatic 140 Auto-Set Mig Welder and the other being the Lincoln Electric K2185-1 Handy MIG Welder, which one do we choose? Well I am personally a red fan, I love the Lincoln Electric welders, but today I am going against my own choices and saying it has to be the Millermatic 140 Auto-Set Mig Welder.
Top Features:
30-140 amps output.
Smith Argon and AR/CO2 mix regulator/flow gauge with hose Welds both MIG (shielding gas sold separately) and flux-cored.
Plugs into household 115V, 20 amp outlet.
10 foot (3 meter) Mig gun cable
Miller "Tip saver" to protect tip when shorted
Protection from thermal overload making welder shutdown
Can weld up to 24 gauge mild steel
State of the art system ensuring contractor circuit electronically cold until Mig gun trigger activated
Specifications:
Input Power - 115 V/20 Amps/60 Hz
Rated Output - 90A/18V/20%
Output Range - 30-140A
Net Weight 60 lbs. (27.3 kg.)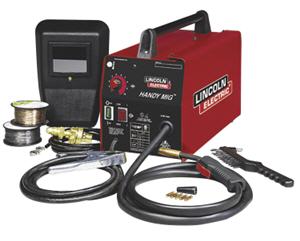 The Millermatic 140 Auto-Set Mig Welder is renowned for being suitable for all manner of welding projects from auto workshops to home and hobby, even industrial units are known to use this welder.
While the Lincoln Electric is a brilliant brand that offers great welders, Miller has just beaten Lincoln Electric to the title of overall best welder for a wide range of uses, making the Millermatic 140 Auto-Set Mig Welder the best welder on the market.
Related Articles: