Welding Ideas For Profit!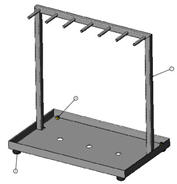 These welding ideas for profit will get you started in the right direction selling and making money as a professional or hobby craft welder.
So you have honed your welding skill and have been using them in your workshop to build items for your home, but why not use your welding skills for profit.
In this article we will discuss a few things to do to make extra money welding
If you have the right ideas then you can create welding projects to make money. Whether these are big projects for large profit or simply small projects for a small sideline income is up to you, but either way there is money to be made from welding.
You may wonder where to start with your welding ideas for profit; well it all depends on what you wish to create. Maybe you want to create items of a practical use such as heavy duty workshop tables or sleek glass topped coffee tables or maybe you are interested in items of a decorative nature like metal art or garden items, there are so many choices.
If you're stuck for welding ideas for profit then why not take a look at a few ideas below to get your creative juices flowing:
Practical ideas
Workshop Table
Shelving
Tool Box
Garden Chimes
Weather Vanes
Artwork
If you need welding plans for welding projects for profit or simply to build shop tools and organizing products, these welding project plans are really good.
Once you have decided which avenue to take with your welding projects to make money it is time to start getting to work.
Now what you need to do is time yourself making your welding project and also cost up the materials used including metals materials, welding coils and oxygen. What you need to do is work out how much you would like to earn per hour and add this amount in time taken for one item, then add costs for materials on top to give a cost per unit, you may also wish to add shipping costs on top.
Once you have your items for selling, the costs to create the units and the pricing structure your ready to start marketing your products.
To ensure your welding projects to make money work you need the correct tools for the job, this means you need a work space, work table, material store, tin snips, chalk, tape measure and MIG welder among other welding tools.
Summary
Welding is an art and because of this there are so many amazing ways to make money utilizing a welder. If you take the time to think carefully about your market and the items you wish to weld you can really make some money from your welding projects whether this is a full time income or simply part time holiday money.
Related Articles: