Free Welding Tips and Tricks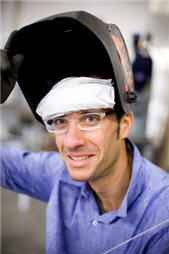 Do you want our Free welding tips and tricks sent to your email every few days? You'll get tips on...
Tig Welding
Mig Welding
Arc Welding
Aluminum Welding
Pipe Welding
And more!
Even if you are a veteran welder our welding tips and tricks mini guide will help you improve your welds. One tip might be basic, but then again another tip or metalworking trick might help you. It's free, and there is no obligation to buy anything, and you can unsubscribe at anytime.
We'll even send a review, and other welding and metalworking articles your way as well. Sign up now...
Don't worry, your information is kept confidential and we don't share or sell any information with third parties. You'll just get information from us!
Suggestion: If you do not our tips sent to your email box, you can sign up for our rss feed (our welding tips and tricks blog) and you can follow us that way. Just be sure to get our rss feed set up on your rss reader. Don't have one? Watch a short video about rss feeds here.
Basically, an rss feed is like a glorified ticker (like a stock ticker) but it's much better. You sign up for the feeds you want to follow. And if the little rss feed (a little line of text with a link) is something you are interested in from that companies feed, you click the link and you go to the blog that has the full story.
For example. If we write an article on our welding blog about pipe welding or tig welding and you have our feed set up in your rss reader, you will see a little line of text appear in your rss reader with a link to that blog entry. Very cool stuff.
But the best thing in our opinion is to get our welding tricks and tips, and the feed. This way you don't miss anything...
Have A Welding Tip You Want To Share?
Do you have a welding tip to help a fellow welder out with?
What Other Welders Have Said
Click below to see contributions from other visitors to this page...

Remember To Breathe When You Tig Weld

Tig welding is an art! It's been 5 years now and I have been away from this site. It's nice to be back reading how everyone is doing and so much has …
Copyright WcWelding.com All rights reserved.