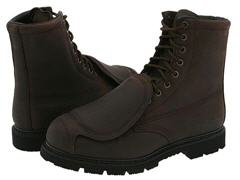 Want A Good Pair Of Welding Boots?
Get a quality pair of welding boots because if you skimp out and buy cheap work boots you are risking a third degree burn or worse.
Your boots should not be low cut, and you should get welding work boots that have a tight fit so that nothing can slide inside, burning you.
But the most important aspect of welding boots is comfort. There is nothing worse than getting blisters and aching feet from cheap welding work boots.
The fact is, you are going to be on your feet a lot, and if you have cheap work boots you will get short term and long term physical problems.
What Boots Do Most Welders and Metalworkers Wear?
Without a doubt, the most popular footwear for welders are Red Wings. They are comfortable, durable, and in the long run will save you money. You'll go through several pairs of cheap welding work boots before you even need to consider replacing your RedWings.
Comfort is the secret because a comfortable pair of welding boots will keep you from getting backaches, blisters, and burns. Period. And Red Wing boots are the ones for you...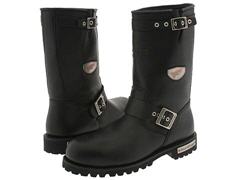 RedWings are the overwhelming favorite amongst welders and ironworker's. There are other good brands available, but why go with anything other than what metalworkers recommend?
In addition, Red Wings are made in the USA. And they are the best work boots in the world. There isn't a company out there that makes a better pair, and they take care of you if you have a problem.
Red Wing work boots are heat and cold resistant and don't scratch when tie wire or sharp piece of metal tries to slice them up, and the leather handles molten slag like no other.
I read somewhere that using silicone caulk on threads on your welding boots keeps the threads from burning from weld splatter. That's good advice I never thought of so use it.
You get what you pay for these days, more than ever. So don't spend time shopping around for a cheap pair that appears to be the same because you'll end up kicking yourself later. Buying a good pair of welding work boots will actually save you money of the long term!
Another piece of advice when it comes to welding work boots is to get a pair of inserts. Get a pair of inserts with an arch and padding and you'll feel like you can work all day.
Get your pair of Red Wing work boots at the guaranteed lowest prices here.
Copyright WcWelding.com All Rights Reserved.