Log Splitter Plans!
New Log Splitter Plans: 14 pages of detailed easy to follow drawings.

A brand new log splitter can run you anywhere from $90 - $1,500 depending on whether you get a manual, electric, or gas powered splitter. And the good ones are handy.

Building a log splitter is satisfying, and it's not hard to do. That's why we created log splitter plans that just about anyone with basic metalworking tools can follow.

Features:
Horizontal log splitter with an 8 ton hydraulic cylinder.
Manually operated.
The main sizes of the device are 68 x 10 x 40 inches.
The maximum log length that can be inserted is 20 inches.
The hydraulic cylinder has a double effect actuation (the pump has no dead stroke) and the main characteristics could be found at: Torin Long Ram Double Piston Hydraulic Jack - 3-Ton, Model# T30308
Of course, other cylinders could be used as well.
---
---

GUARANTEE: If you are not satisfied with these plans for any reason at all just send us an email along with your receipt number and tell us why and we will refund your money. All we ask is that you do so within 30 days. Fair enough?

Log Splitter Plans: 14 Pages. $14.95 $3.95.

---
---

Back To Main 
Welding Plans Page

---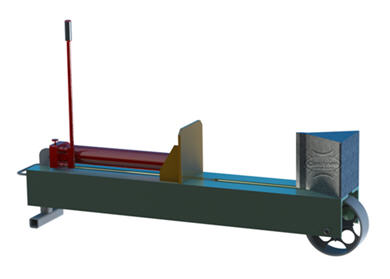 Legal Stuff: Buyer agrees that the drawings and information received from this set of prints are for their personal use only and may not be copied or resold in any form. All plans and information are made without any guarantee on the part of the publisher, editors, contributors and authors, who also disclaim any liability incurred in connection with the use of the plans or information in the plans whatsoever.
Disclaimer: THERE IS NO WARRANTY NEITHER WRITTEN, EXPRESSED OR IMPLIED FOR DAMAGES THAT MAY RESULT FROM THE APPLICATION AND INTERPRETATION OF THESE welding project plans or welding blueprints (DRAWINGS). NO REFERENCE TO ANY SPECIFIC MANUFACTURE IS AUTHORIZED OR IMPLIED.
---
---