Workbench Plans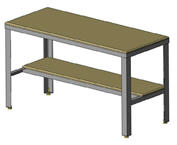 The following workbench plans are simple, new, and are much more than a set of plans. You'll also get step by step directions. It's a 14 page step-by-step guide in all, making it a comprehensive and fun project you will benefit from for many years to come.
These work bench plans were professionally designed. The designer is a 15 year master fabricator and engineer who specializes in the aerospace industry.
Your workench plans include:
Clear, easy to follow step by step instructions. You'll get a detailed description of how, what, and where to weld and fabricate each part for the go kart.


3D CAD model Images of the workbench plans.


Detailed fabrication drawings of the workbench plans plans which will be referred to in the instructions. All drawings include weld symbols according to AWS standards. The weld symbols will be explained in the instructions (ie. a glossary of weld symbols with descriptions).


A complete bill of materials / cut list of materials. This will included any fasteners as required.
The workbench plans are in PDF format for easy viewing, instant download, and printing. Adobe Reader is Free.
These work bench plans plans are easy to understand, and just about anyone can complete this project because it's all laid out in an easy to follow step by step format. In addition, the detailed plans are better than you are expecting. Guaranteed.
In addition, you can create as many workbench's from these plans as you want for fun, or sell your completed project for a profit!
---

GUARANTEE: If you are not satisfied with the plans for any reason at all just send us an email along with your receipt number and tell us why and we will refund your money. All we ask is that you do so within 30 days. Fair enough?

---
Work Bench Plans -- 14 page step by step guide $3.95


---

---
Work Bench Plans and Welding Plans Home

---
---
Buyer agrees that the drawings and information received from this set of prints are for their personal use only and may not be copied or resold in any form. All plans and information are made without any guarantee on the part of the publisher, editors, contributors and authors, who also disclaim any liability incurred in connection with the use of the plans or information in the plans whatsoever.
Disclaimer: THERE IS NO WARRANTY NEITHER WRITTEN, EXPRESSED OR IMPLIED FOR DAMAGES THAT MAY RESULT FROM THE APPLICATION AND INTERPRETATION OF THESE welding project plans or welding blueprints (DRAWINGS). NO REFERENCE TO ANY SPECIFIC MANUFACTURE IS AUTHORIZED OR IMPLIED.
---
---