Quality Welding Table Plans!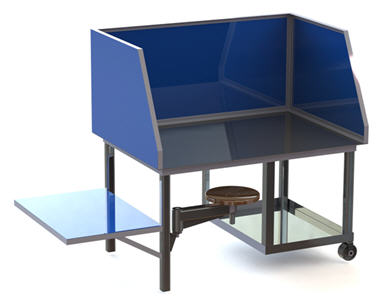 Our welding table plans are 45 pages of professional quality drawings. Each page shows you in simple detail what you need to do in order to complete the design (pictured above and below).
These plans are for beginner and intermediate level welders - metalworkers. And as you can see the design is highly functional and unique...

As I mentioned above, these welding table plans were created to be easy for a novice to follow, but an intermediate fabricator may find it challenging as well. But the final design will result in a welding table that will be something you'll use for many years go come.
The design took a lot of time and energy to create because we wanted something that was professional looking, yet simple in terms of it's function. Welding and fabrication shops don't need a welding table with lots of features. You just need to weld stuff. And this is what this design will enable you to do....

Our Mechanical Engineer who designed these welding table plans has over 20 years experience building sophisticated automotive and industrial parts.

Welding Table Features:
The welding table from this project is a simple metallic construction.

It is made out of steel profiles and sheet metal.

The overall sizes are 72 inches long, 36 inches wide and 52 inches overall height.

The chair is optional, as well as the transporting wheels.

GUARANTEE: If you are not satisfied with the plans for any reason at all just send us an email along with your receipt number and tell us why and we will refund your money. All we ask is that you do so within 30 days. Fair enough?

---


---
Back To Main 
Welding Plans Page
---
---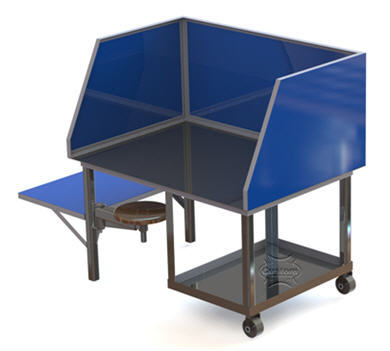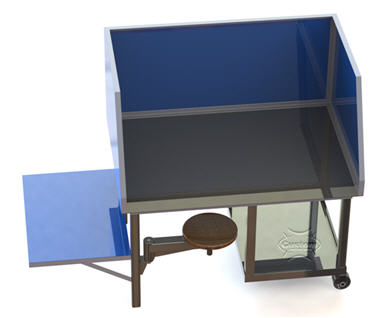 ---
---
Legal Stuff: Buyer agrees that the drawings and information received from this set of prints are for their personal use only and may not be copied or resold in any form. All plans and information are made without any guarantee on the part of the publisher, editors, contributors and authors, who also disclaim any liability incurred in connection with the use of the plans or information in the plans whatsoever.
Disclaimer: THERE IS NO WARRANTY NEITHER WRITTEN, EXPRESSED OR IMPLIED FOR DAMAGES THAT MAY RESULT FROM THE APPLICATION AND INTERPRETATION OF THESE welding project plans or welding blueprints (DRAWINGS). NO REFERENCE TO ANY SPECIFIC MANUFACTURE IS AUTHORIZED OR IMPLIED.