Welding Trailer Plans!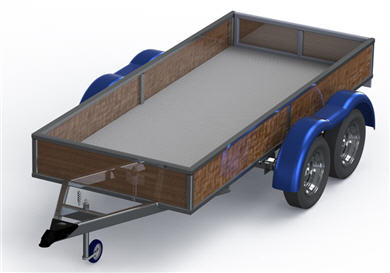 Our new welding trailer plans are 22 pages of very crisp and clear. You'll find the plans to be very specific and easy to follow.
The trailer construction is very strong. It's made of square and rectangular steel. The size of the pipe is quite common (2" x 2" and 4" x 2").
Welding Trailer Plans - Features of The Trailer:
Gross Vehicle Weight (GVW): 6000 lbs.
Overall length: 188 "
Overall width: 89"
Wheel base: 30"
Track: 79"
Loading box sizes: 144 x 60 inches
Brake system: yes, electrical.
Tires, rims: 195/70 R 15, 5 J 15 with 0" offset.
Axles: U 35, AL-KO, with electrical drum brakes
There is a necessary brake controller for the electrical brakes as well as other purchased parts (coupling, locks, lighting and signaling items, fenders, etc.); these parts could be purchased from a on-line store (such as www.etrailer.com).
---

GUARANTEE: If you are not satisfied with these welding trailer plans for any reason at all just send us an email along with your receipt number and tell us why and we will refund your money. All we ask is that you do so within 30 days. Fair enough?
Welder Trailer Plans: 22 Pages.
$29.95 $5.95 for a limited time.


---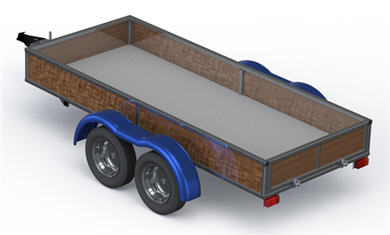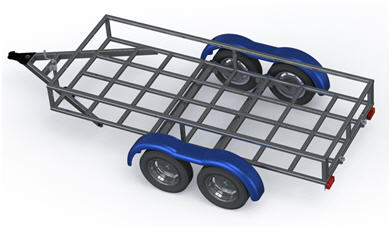 ---
Related:
Back To Main 
Welding Plans Page
---
---
---
Legal Stuff: Buyer agrees that the drawings and information received from this set of prints are for their personal use only and may not be copied or resold in any form. All plans and information are made without any guarantee on the part of the publisher, editors, contributors and authors, who also disclaim any liability incurred in connection with the use of the plans or information in the plans whatsoever.
Disclaimer: THERE IS NO WARRANTY NEITHER WRITTEN, EXPRESSED OR IMPLIED FOR DAMAGES THAT MAY RESULT FROM THE APPLICATION AND INTERPRETATION OF THESE welding project plans or welding blueprints (DRAWINGS). NO REFERENCE TO ANY SPECIFIC MANUFACTURE IS AUTHORIZED OR IMPLIED.
Related Trailer Plans:
---
---