39 Welding Projects For Beginners and Weekend Welders!
Welding is a very rewarding and stimulating hobby. If you are able to hone your skills you will be able to derive a profit from it.

I know welders who make metal art or simple garden art and make a nice part time and full time income from it.
There are a number of different welding projects for beginners all of which are fun and build your skill.

But keep in mind that even though the first projects listed below are for beginners many of them are being made by veteran and advanced metalworkers for their own use or to sell.
A Flair For The West?
Western style metal art is always going to be 'in' and horseshoes are a very solid theme so lets start there because horseshoes are easy to source locally and online (but don't worry I will cover a lot more project ideas as well).

Horseshoe Coat rack: This project is fun, easy, and if it's a gift your people will love it. All you have to do is get some horseshoes, clamp them down, and then weld them together. A few small other details are involved and covered here:
Discover welding projects and welding ideas from welders and metalworkers around the globe (see posts below).
Or, please share your projects as well!
Horseshoe Bookends: You can create simple western styled bookends, (that are really pretty popular in parts of the country) by welding together two horseshoes at right angles.
Horseshoe Toilet Paper Rack: You can also create a western style toilet paper holder with a horseshoe.

Table: If you're a bit more ambitious you can start with any basic design of a table and then use horseshoes for the legs and the stand that you will your table top on. If you affix a glass top to it so you can see your hard done metalwork it will give you a great western effect.

Workbench: A good sturdy workbench is a necessity, and a fairly straightforward project. You can expand beyond that idea and create a smaller portable bench to accompany it. You can also if you're feeling a little more decorative try your hand at creating bases for tables that you can later then finish with a table top out of a material a little more aesthetically pleasing than steel. If this interests you then you should study this workbench building tutorial.
Cool Beginner Projects!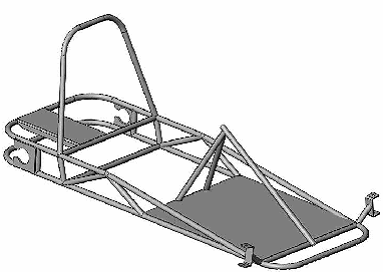 Now that you have some good projects ideas that will build your welding skills lets look at a couple of cool welding projects:

Go Kart Frame: There aren't many things cooler than a go kart, and the most important part is the frame. Fortunately we have plans you can follow. It's more of an intermediate to advanced level project but beginners are having fun with it.

A go kart is a good weekend welding project for the family. The project requires quite a bit of materials: square or round tubing, edge irons, angle irons, iron plates, wires, a plank of wood, a steering wheel, steering shaft, pitman arms, tie rods etc… The Go-cart weekend project involves lots of welding which is the fun part. It can be time consuming but it's worthwhile. You might like these plans.

Garden Stakes: One of my favorite beginner projects because they require very little material, they are easy to weld depending on how complex you get, and they look cool.

Weights Bench or rack: If you lift weights or know someone who does, wouldn't it be cool to build your own? There's really not much to it.

Do you have any projects you want to share? Post them here.
Welding Projects For The Shop (Projects For Your Garage or Metalwork Shop)!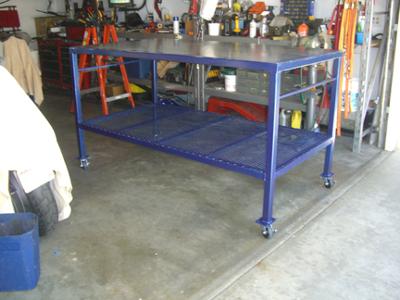 Building your own shop accessories is a far cheaper option than purchasing them at the store, it is also a satisfying feeling to know that you made them yourself.
Welding Table: You must have a welding table so build your own. A simple design is almost as easy as building the coffee table above. You can make the legs out of pipe or angle iron and weld a heavy duty top to it.

Welding Cart: If you MIG or gas weld you need a welding cart for both your machine, your gas, and your tools. Don't buy one. Build one and save money!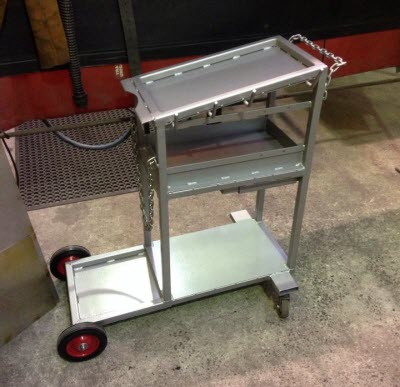 Our friend Jeremy Joice built this mig welding cart as a project for his third year apprenticeship. He used an Esab welder, 25 millimeter x 25 millimeter rhs, 2 millimeter alloy coated steel, hammer tone paint (silver). It took him a few hours.

Welding Rod Storage: Build yourself a storage container for loose welding rods. Leftover rods from boxes tend to just roll around on shop desks or on tables. Instead, create a place to put them.

Find the biggest piece of box iron you can and cut it to a length where it will hold rods upright but you'll still be able to grab them easily. Then, weld it to a plate of metal wide enough to comfortably support the box iron. You can place your spare rods in there and keep track of them easily.

Anvil stand: If you are looking to outfit yourself with a complete metal working workshop you will need an anvil if you don't have one already. You can use four heavy duty steel pipes for the legs, set on a slight angle from a flat plate to weld to the top. Use some flat iron pieces cut to length and weld a box frame between the four legs for strength. You can rig an anvil harness from other odds and ends around the shop.

Workshop Shelving: You need to store stuff and stay organized especially if you need shop area for your metalwork. Your wife or partner will love you for it. Check these plans out if you are stuck on what materials and measurements to do or follow this simple design...

For this beginner welding project you need thirteen gauge steel sheeting and a small piece of angle. To make your shelving simply cut the steel sheet to the length you wish to have the shelf then cut the sheet to eight hundred millimeters in width (31.5 inches). After you have the shelf cut to size you need to bend the sheet by ninety degrees at four hundred millimeters on the width (15.75 inches).

Once your shelf has taken shape you now need to create the brackets to keep the shelf on the wall, for this take the angle and cut it into four lengths of three hundred and fifty millimeters (13.75 inches). You will need to cut one end of each angle at a forty five degree angle. After this you can put two of the angle pieces together at the forty five degree cut to make a clean ninety degree angle and weld, repeat this with the other two angle pieces.
Now you can drill two holes in one side of each bracket, this is where the bracket will be screwed to the wall. After this you're now ready to weld the brackets to your shelf so you have your very own shelf for your workshop.
Workshop Bench: For this project you need a six gauge steel sheet and fifty millimeter by 50 fifty millimeter (1.96 x 1.96 inch) box section.
Firstly you need to cut the box section in to three pieces of the length you wish your table to be, after this you need four lengths of box section at the width you wish your table to be. You will now need to cut four pieces to the height you wish the legs of your table to be.
Take two lengths pieces of box section and two width pieces and weld together to make a rectangle frame for your table. After this weld your four legs on to the frame, ensuring that it is symmetrical in size so one leg is not longer than the other.
You now have a table frame but your legs need support so take the two extra width pieces and weld them on the width between two legs at each end, three hundred millimeters off the ground. Take the extra length of box section remaining and weld this between the two supporting width pieces at the bottom of the legs, ensuring the length is welded in the center of the table.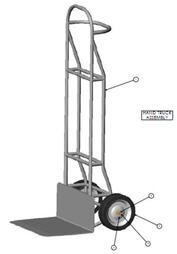 Trailer Dolly: There is no doubt that a trailer dolly hand truck makes it far easier to haul items from one area to the next. Even better, putting one together only requires cutting a few pieces of pipe, welding them together for a frame and adding wheels to the axle you create. Soon, you will be hauling away items with ease - and your back won't have to pay for it!
Creeper: Scooting in and out from beneath your car can be backbreaking work, so why not weld four wheels to a couple pieces of metal and attach it to a piece of plywood so you can roll easily from under your vehicle while working on it?

Spare Parts Box: No one wants to use a top-of-the-line toolbox to hold parts as you remove them from the vehicle, but a simple box made of sheet metal with a convenient handle welded on top will make it easy for you to move parts from one place to the next without having to sacrifice your good toolbox.
Shop Stool: A shop stool is actually pretty easy to make, as all you need is some angle iron to create the legs and the frame. Be sure to run some angle iron on the bottom half of the stool for added stability as well as at the top for your seat to be placed on. Plywood or sheet metal both make good seat choices.

Storage Racks: Since you are building these racks yourself, you can customize them to suit your tools perfectly. Angle iron can be used to form the base of your storage rack, then let the type of tool you are storing dictate the rest of the project. Whether you need to weld pipe to the base so tools can be suspended, drill holes for your tools to hang from, or weld hooks to place your tools upon, your MIG welder will make the job a cinch.

Tool Bench: With several pieces of angle iron, you can build the legs and the frame for the perfectly-sized bench for your garage. Lay a piece of plywood over the top and you have a sturdy bench that is perfect for all of your projects.
Small Welding Project Ideas!
Shoe Rack: You can easily weld together a small shoe rack to put outside or inside your front door. Aren't you tired of all the shoes and boots thrown around that area?
Plant Holder: Why not build yourself or your family a decorative plant holder that holds one or more plans? It easy and fun. If your design is good try listing it on Craigslist.

Spark plug holder: With just a few pieces of sheet metal, you can weld together a box containing holes that are perfectly sized for your spark plugs. This way, your spark plugs will be easy to keep track of and easy to move out of the way until you are ready to put them back in the engine.

Figures: You can easily weld together figures from nails, bolts, nuts, and other spare parts you have lying around.

Miniature Cars and Motorcycles: People love their bikes and cars. You can build some really cool tiny little cars, trucks, motorcycles, and much more with small spare parts, nuts, and bolts! Check this guys stuff out.

Key Holder: Tired of throwing your keys in that old bowl you got in highschool? Make a custom key holder rack with a artistic touch.
Easy Home Welding Projects!
Lumber Rack: Make yourself a lumber rack for the back of a pickup truck. Measure the truck and build yourself a rack consisting of a box shape that will extend over the cab of the truck far enough to support a full length sheet of plywood. Then weld on support legs to insert into the box of the truck. This will come in handy for your carpentry projects.
Garden Bench: A garden bench is easy to build. Check out this bench built by one of our subscribers: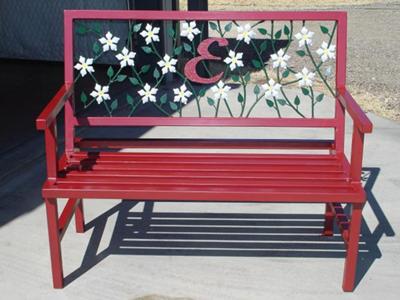 And now check this garden bench welding project out that was built with our plans.
Outdoor Fireplace: This is one of my all time favorites because who doesn't love to sit out side near a nice controlled fire, and in a fireplace you built! Check out this step by step guide.
Coffee Table: Ever wanted to have an original coffee table, one that people will admire and you can call your own...then why not build your own. They can be very useful and artistic welding projects for beginners.

To build your own coffee table take two lengths of angle iron. Cut one of the lengths into four pieces of 25.5 inch in length, cut the second into 2 pieces at 23.5 inches in length and 2 at 39 inches in length.

Now take the pieces of 23.5 inches and 39 inches in length and cut the inside edge of each to a 45 degree angle. You can now weld these together with the 39 inch as the length pieces and the 23.5 inch as the width. When welding, do so on the inside to leave a clean look on top. Use an angle grinder or file to clean the welds on the inside once the welding is complete.
Take the four 25.5 inches and place on the inside of each corner and weld one at a time ensuring that when you stand the table up at the end it does so without rocking so the legs are even. After this you simply paint the table. You are probably wondering where the top is, for this you buy some small padded feet from a hardware store that you apply to each corner and a piece of glass from a glass wholesaler to finish your very own coffee table.
Attention: Change the height of the legs to suit your needs (the 25.5 inch pieces). 
Lamp: A very small yet pretty cool project might be a reading lamp. It's a little more complicated than you might expect but not difficult. Check this one out.
Bookends: You can build these using regular flat iron if you want. If you wanted to be more creative, you could build it out of two horse shoes instead. All that this project requires is to set your two pieces of metal at a 90 degree angle and weld them together. This is extremely simple but as wrought iron and metallic art in general are so in vogue right now they will probably be very popular with anyone you give them to.
Corner Table: You can build a metal art corner table and impress your mom. She will love it. This is something you can make in a few hours if you are skilled, and maybe over the weekend if you are just starting out. This book has great loads plans and directions on home welding projects.

Patio Table: The first welding project is a patio table. This project requires thick steel mesh (with small squares) and steel angle, if you have these then your ready to go!

First you need to cut two lengths of angle to the length you want your table then cut two lengths for the width of the table. Once you have these four lengths of angle you are ready to make the table top frame, to do this cut all four lengths at each end by forty five degrees, but only on one side of the angle. Now you can weld these together using the angles you have cut as the joins to make a flush table top.

As you have your table top you need some legs, simply cut four lengths of angle to the same size and weld on the table top, welding the legs inside the outside edge of the frame for a clean finish. Once this is complete you can finish the table, simply cut the mesh top the right size and weld on the underside of the table top. Voila now you have a nice patio table that is robust and can with stand the weather.
Weight Lifting Cage: For those that like to pump iron there is nothing better than a weight lifting cage, imagine having your own weight lifting cage that you created yourself as part of your small welding projects.
For a weight lifting cage you need fifty millimeter (1.96 inches) box section and fifty millimeter (1.96 inches) angle.

To start you cage cut two lengths of one thousand two hundred millimeters (47.25 inches) and one length of seven hundred millimeters (27.5 inches) of box section and weld them together with the two longer lengths joining each end of the shorter length to form a U shape base.

Now cut two lengths of box section two thousand millimeters in length (78.75 inches) and four that are seven hundred millimeters (27.5 inches) in length. The two longer two thousand millimeter lengths can be welded to the joins where the angle on the U is so they are standing upright, this is the rear of your cage. Take the four smaller lengths and weld two to the front of your U shape again standing up; the other two should be welded some five hundred millimeters (19.68 inches) in from the front standing up.
Cut four lengths of seven hundred millimeters (27.5 inches) box section, weld the first across the top of your rear standing lengths of box section, now weld one running from the top of the front standing box section to the top of the middle length and repeat on the other side. The final length of box section should be welded across the back of your cage between the two large upstanding pieces of box section at seven hundred millimeters from the floor to give stability.
You now need two more pieces of box section; these will run from the top of the middle lengths of standing box section to the top of the rear larger standing lengths of box section. These two pieces of box section will need measuring yourself and cutting at an angle to ensure a flush finish.
Now all you need to do is cut six lengths of angle at one hundred millimeters (3.93 inches) each, these will need welding on the two angled pieces of box section you have just welded, three on each side at equal intervals so your weight bar is at a symmetrical height when resting on them.
Advanced Tig Welding Projects!
Recommended DVD for Advanced TIG
Mountain Bike Frame: This is one of my favorite advanced welding projects because mountain biking is one of my passions, and being able to say you built a frame yourself is quite an accomplishment. This can be used for Mig or Tig welding dependent on your experience with either. But TIG is recommended due to the fact that it's more versatile. But don't let that stop you from trying MIG. For this you need to make your own mountain bike jig before creating the bike itself, this will help ensure you get the accuracy of the frame so it can be used...
The simple mans route: To build the jig get a current mountain bike frame and put it against a fairly thick gauge of sheet metal, now mark out correctly the angles and measurements of the bike on the metal with chalk. Now you can use box section or angle iron in small sizes to weld to the sheet metal in relevant areas so you can put your piping being used for the frame on this home made jig.

You need to cut your different sizes of piping into the lengths you require, after this you can put these on your home made jig and weld them together.

Tools and materials required:

Angle iron or Box section

Welder
Aluminium or Steel piping
Steel sheet
Cutter
Chalk
If building a mountain bike frame appeals to you then you should also consider building a chopper frame. It requires the same skill and it's a cool project if you know what you are doing.
Motorcycle or Bike Frame Jig: as mentioned above you will need a welding jig for your bike frame or motorcycle frame build. Without one you are asking for big time headaches and potential disaster. There are some free plans for bike frame jigs that seem to be ok or you can use the 'simple ans route' as outlined above. For your motorcycle frame jigs go here.
If you are not advanced enough to build this kind of jig start small. Build this right angle jig because it will be something you'll use over and over anyways.
Utility Trailer: Building a trailer is not as hard as you might think. You can build a utility trailer to tow behind your truck or you can build an ATV trailer. You can even build a bike trailer.
Aluminum Sled: You can Mig weld aluminum but TIG is better. And when it comes to sledding you need something both strong and light. Check this design out that some students built:
Ron Covell's Project Ideas For Beginners!
I asked Ron Covell what sort of projects would a beginner or intermediate level welder start, and here is what he said:

A welding cart, that holds the welding machine, a gas bottle, and maybe some welding accessories is a great, and very useful first project!

After that, the sky is the limit. A pot and pan rack for the wife's kitchen, a center stand for a motorcycle, or a piece of art for the yard might be some challenging projects.

Related Subjects:

For more welding project ideas subscribe to our newsletter and check out the projects built by our subscribers below for some unique ideas not presented here.
What Project Are You Working On?
Are you working on a welding or metalworking project? Do you have an idea you want to share and get feedback on? Share it!
What Other Welders and Metalworkers Have Said
Click below to see contributions from other welders and metalworkers to this page...