New: How To Build A Roadster DVD!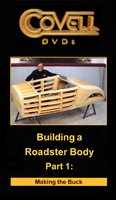 If you want to build a roadster this is the only DVD series you should own. Building a Roadster Body Part 1, by Ron Covell: Making the Buck. (Part 2 is now ready as well).
One of the first steps taken in many large metal shaping projects is building a buck, which is a pattern or form, that captures all the key dimensions, contours and details of an object in a three dimensional space. Details such as intricate contours and flanges are then created by hammering metal directly against reinforced sections of the buck.
The techniques that are used to make sophisticated bucks aren't that widely known and many people have requested step-by-step instructions from us, using tools that the average builder may have already...
In this Roadster building DVD you'll learn a fast way of using sheet metal angles to model large intricate shapes with complete accuracy and you'll get insights into the ways in which Ron works through the many challenges which are presented by each element of the buck.
His easy to follow and detailed commentary, together with striking close-up photography makes each step easy to follow and you'll quickly learn how to build sturdy, accurate bucks, which are the foundation for your large-scale metal shaping projects.
DVD Length 70 minutes.


GUARANTEE: If you honestly believe this DVD on how to build a roadster (part 1) is not everything that we say it is Amazon has a generous return policy so give it a shot and if you don't like it return it within a few days. I think they give you up to 30 so there's no hurry. But I know you'll love it