How To Choose A Welding School!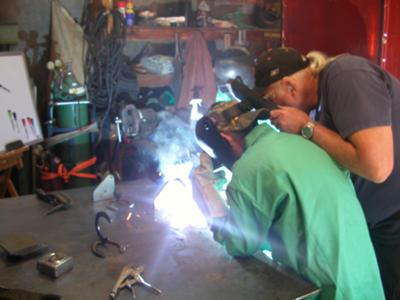 Welding remains one of the most in-demand professions in the US. If you wish to make a career in welding or want to enhance your skills and broaden your horizons, the first step is selecting the right welding school. When it comes to welding instruction and education not all are made equal.
Therefore, you need to consider a few factors before you can make the right decision. To make things easier for you, here are some pointers you can use to choose a good school:
First and foremost, there are only a few welding schools which are considered the top ones. Depending on where you live, you might be able to find one in your vicinity, for instance the Tulsa Welding School. However, if you don't live in a city with a great welding school, you have to decide whether or not you will be willing to travel. It will entail extra cost and effort so this is a decision you should make with care. But before you can do this, you need to find the welding schools located in and around your area. 

To locate technical schools, you can check out the American Welding Society (AWS) online. They have a school locator on their website which you can use to find all the industry specific schools located near your home. This way, you can create a list of schools you feel are within reach and you can easily enroll in at and attend. Make sure you add as many names to your list as possible to ensure you have enough options to select a really good welding school. 
The next step is to narrow down your list of options and come down to 2 or 3 options of which you will select one. This is where you can try AWS again. Head out to their local section. There, you will meet many people working in the welding industry with different specializations. They will guide you about the best welding schools and help you shorten your list. You can also do some research online about the schools on your list and check out reviews and other factors.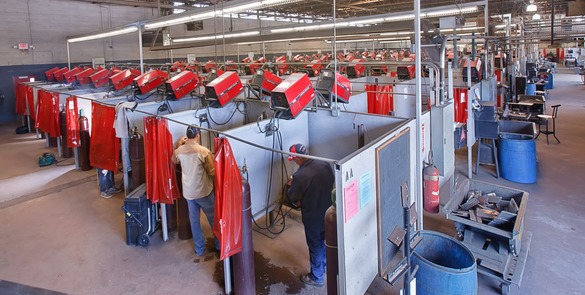 Tulsa welding school.
While you are at it, find the names of a few companies which employ welders in and around your area. Give them a call and talk to the welders they have hired. They will be able to further guide you about your choice of welding school. Do keep in mind that the larger the company, the more effort you will have to put in to get the assistance you need. Always be polite and who knows, you might find a job at the same company once you complete your welding education. 

Now that you have sufficient information and recommendations to narrow your list down to a few options, you should start calling the schools you have chosen. The purpose of calling is to ascertain their accreditation. Remember that your job prospects and the value of your degree will be greater when you attend an accredited welding school. Also check the authorities which have accredited the schools to further refine your list. If a welding school is not accredited, just strike it off your list. 
Next, you have to set up a meeting with an admissions counselor to get the help you need with filling out forms. Not to mention, you have to deal with red tape to get through and apply for admission. If you need financial aid or a student loan, do make sure you tell the admissions counselor so he/she can refer you to the person in charge of it. 
Find out all you can about financial aid, student loans and scholarships offered by the school you are interested in attending. Also, you can check with AWS as they offer scholarships to welding students from around the country. If you can qualify for a scholarship with them, it will make things easier for you. 
At this stage, you will meet someone from the welding department. This is where you have to uncover all the relevant information which will help you make an informed decision. This includes: 
Asking about the welding processes which are taught at the school. The more processes you are familiar with, the brighter your job prospects will be once you graduate. 

Asking about the certifications on offer. Some certifications are more credible and will enhance your chances of securing lucrative employment.
Take a tour of the school. While a cursory look around won't tell you much, you can get a sense of the environment and whether you will fit in. Also, take a look at the equipment used in the classes and its condition and whether there are sufficient tools and machines for all the students or not. All these factors count when determining the quality of a welding school. 
Make the most of your visit to the school by talking to some of the students there. You can ask them questions about the quality of teaching and how good the program is. If possible, find students who are studying the specialization you are interested in and enquire about how they find the experience there. It is a good idea to ask the students as they are experiencing the teaching and training firsthand. 
These are the steps you can follow to choose a school. Rest assured, if you follow a systemic approach, your chances of making the right decision will increase significantly. Do keep in mind that selecting the right welding school is half the job done.
You will get the right training and instruction and once you graduate, your certifications and qualifications will hold you in good stead in the industry, regardless of your specialization and the type of job you are seeking. So, be careful in selecting a school and you are good to go.

Top 10 Welding Schools!
According to StateUniversity.com, the top 10 technical schools that teach welding below are based upon govnerment data. Their ranking formula includes the following important factors: the ACT and SAT scores, student retention, instructor salary, and what the student to faculty ratio is. They also do not include peer ratings like many other because, according to them it's biased.
Tulsa.

Capital Area Technical College, Baton Rouge.
Tulsa, Jacksonville.
Central Louisiana Technical College, Alexandria.
Albany Technical College. 
Acadiana Technical College, Lafayette. 
Northeast Louisiana Technical College. 
Southwestern Illinois College. 
Northwest Louisiana Technical College. 
Hobart Institute of Welding Technology. 
What Welders Say!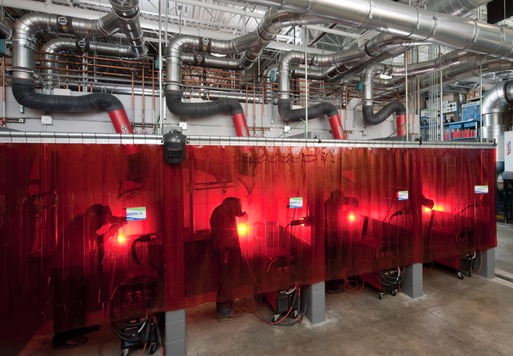 Lincoln welding school.
If you were to ask a group of old school welders what the best schools are for welding they would definitely mention the one that is not on this list: Lincoln school of welding. They have one of the best programs in the world and why it's not on this list baffles me.
So before you take the top 10 rankings above into consideration you should also listen to welders both old and young and get their advice and do you own due diligence. 
If you were to ask me I would say the top 4 schools are Tulsa, Lincoln, Hobart, and University Of Alaska (Anchorage or Fairbanks). 
Keep in mind that some of these schools specialize in one or two areas, while others have programs that cover many areas of welding. For example, the University of Alaska will take you from beginner to advanced welder over the course of your education including AWS certification. 
Also, the X factor in all this is who the instructors are. You may find a really good instructor or two at a no name Junior College and he or she might only have a 15 or 20 students. This could be a good option for you. As a matter of fact, just down the street from me is a great welding instructor who teaches all the classes at the local JC and he is excellent, and after two years you'll have at least two AWS certifications, which is more than enough to get your a well paying job right out of college.
According to Study.com the top 3 welding schools are University of Alaska (Anchorage), Utah State University, University of Alaska (Fairbanks).
They also mention that there are seven more schools worth looking into:
Andrews University Technology.
Boise State University.
Ferris State University.
Idaho State University.
Siena Heights University.
Vincennes University.
West Virginia University.