10 Welding Helmet Reviews!
Your grandfathers welding helmet might be a collectors item. It probably still works though, but you might find it a little awkward. You should use if for wall art or freak your kids out one night with it.
With that said, technology has come a long way and the wide selection of helmets to choose from is so immense it's confusing.
So here's my list of the best welding helmets with selections for the best value, the coolest, the cheapest (but not bad), and the best overall (it's fairly expensive).
iMeshbean Welding and Grinding Helmet!
With a switching time of 1/30,000 and conforming to various welding standards such as the ANSI Z87 and CE, the iMeshbean Pro Cool Welding Helmet is also a kickass helmet when it comes to design.
It has a unique graphic that sets it apart from boring and flat designs and yet still functions as a legitimate ADF helmet. While it has a great design and a very affordable price, it's actually a sticker type and not a paint job so it might not last long.

Best Value!
Antra Wide Shade:
The Antra Solar Power Auto Darkening Helmet with AntFi X60-6 Wide Shade Range has a switching time of 0.00004 seconds, a grind mode and measuring 3.78 by 2.5 inches on its viewing area.
It's not only an affordable ADF helmet but also a versatile and durable one.
It fits any welder who is into DIY and home or garage welding, but does need a few nuts and bolts adjustments.

Jackson Safety:
Known for its safety features, great optical clarity and large viewing area, the Jackson Safety SmarTIGer Variable Auto Darkening (ADF) Helmet with Balder Technology is one great helmet that you shouldn't miss.
Usable for arc welding, MIG, TIG and other processes, it has a variable shade from 9 to 13 and anti-fogging feature. It doesn't have a power indicator, however.

Best Low Cost Welding Helmet!
Wel-Bilt Variable Shade: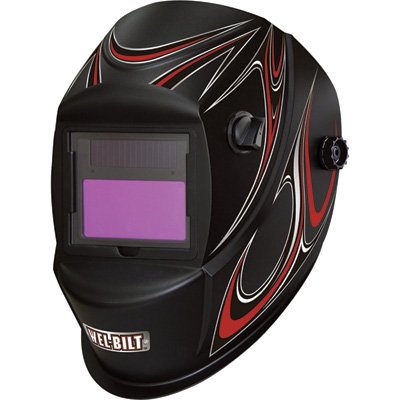 The Wel-Bilt Variable-Shade Auto-Darkening Helmet is a solar-powered ADF helmet that conforms to world standards such as CE, CSA and ANSI.
Capable of doing the job for MIG, TIG, flux and other processes, it is priced reasonably and great for those who are on tight budget.
Provided that you take extra good care of its plastic material, it can last longer than you think despite being a cheap ADF helmet.

The Coolest Welding Helmet!
Save Phace Gen X!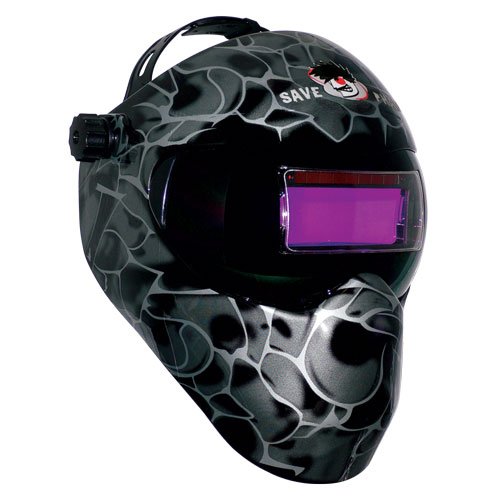 Can you really, 'Save your face' with the Save Phace 3010059 Asp EFP Gen X Series? Yes you can.
It has an intricate design and unique 180 degree lens that allows the welder to see more in their work on almost every angle.
With a clear optical shade of 1/1/1/1, you can also attach gadgets here such as magnifying lenses. Design aside, the only thing you should consider is the knob loosening, but that can be worked over.
Rhino Large View Welding and Grinding Helmet: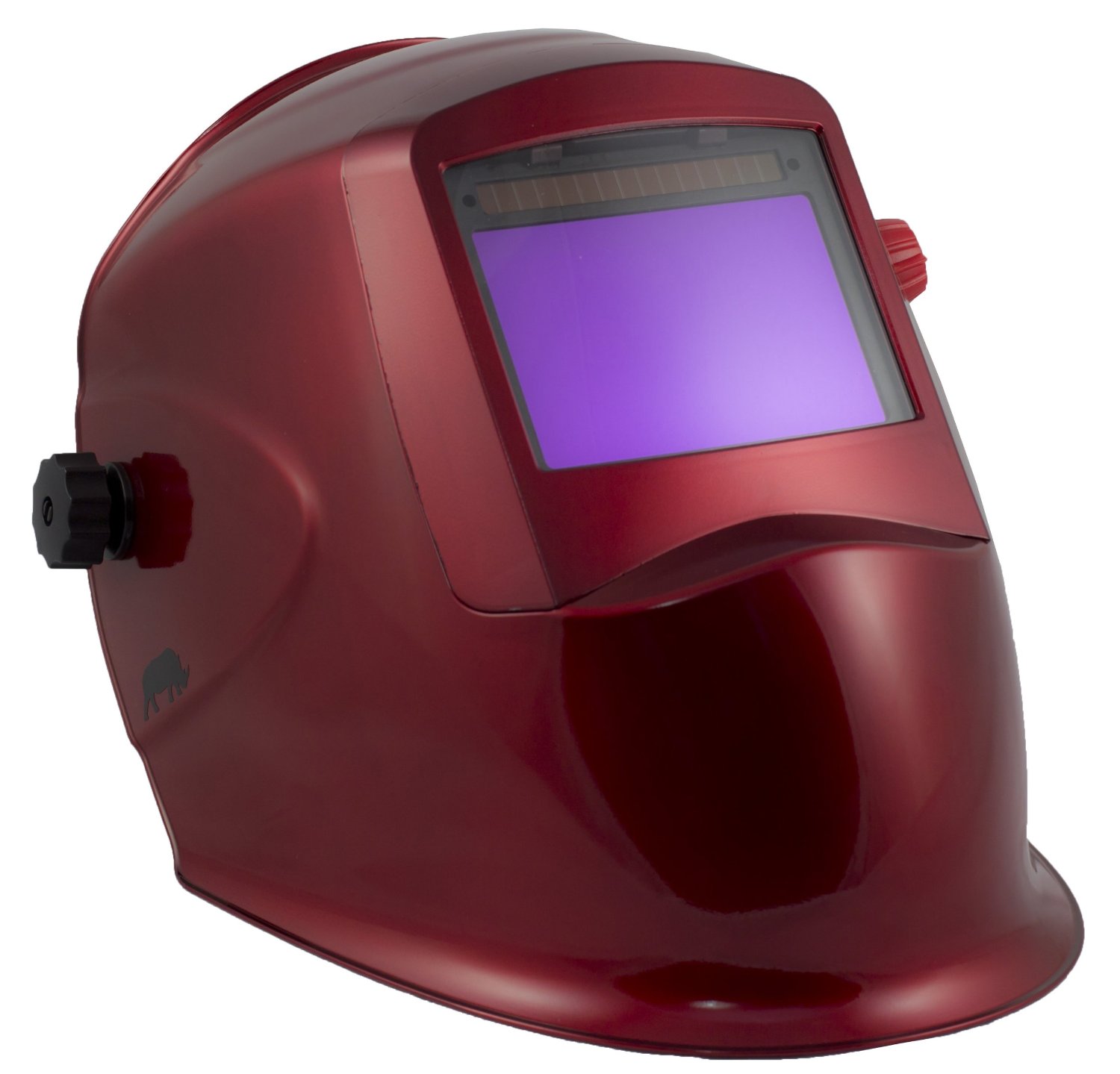 For those who want an extra view of their welding work, the Rhino Large View (4" X 2.6") + Grind - Auto Darkening Welding Helmet is a sure winner for you. Its large viewing area and quick reaction time will give you more worth for your money and more time welding successfully. It also includes a grind mode for those who need it. Despite its great features, it is still a hobbyist's helmet.

Miller Classic:
Like most of their quality products, the Miller 251292 Classic Series 8-12 Variable Shade Auto Darkening Helmet has a quality and quick reaction time, a durable built and a wide variable shade range from 8 to 12 and 3 for light state. But like all solar-powered welding helmets, it's not advisable for night or heavy duty use.
Antra Solar Power:
Having a quick reaction time of 0.00004 seconds and suited for MIG and flux welding, the Antra AH6-260-0000 has the efficient and popular Solar Power Auto Darkening technology. It is super lightweight yet super durable and will give you value for your money. The many extra lenses give you less hassle on having to hunt for replacements. However, welders who don't like plastic material might be a bit turned off.

Instapark ADF Series: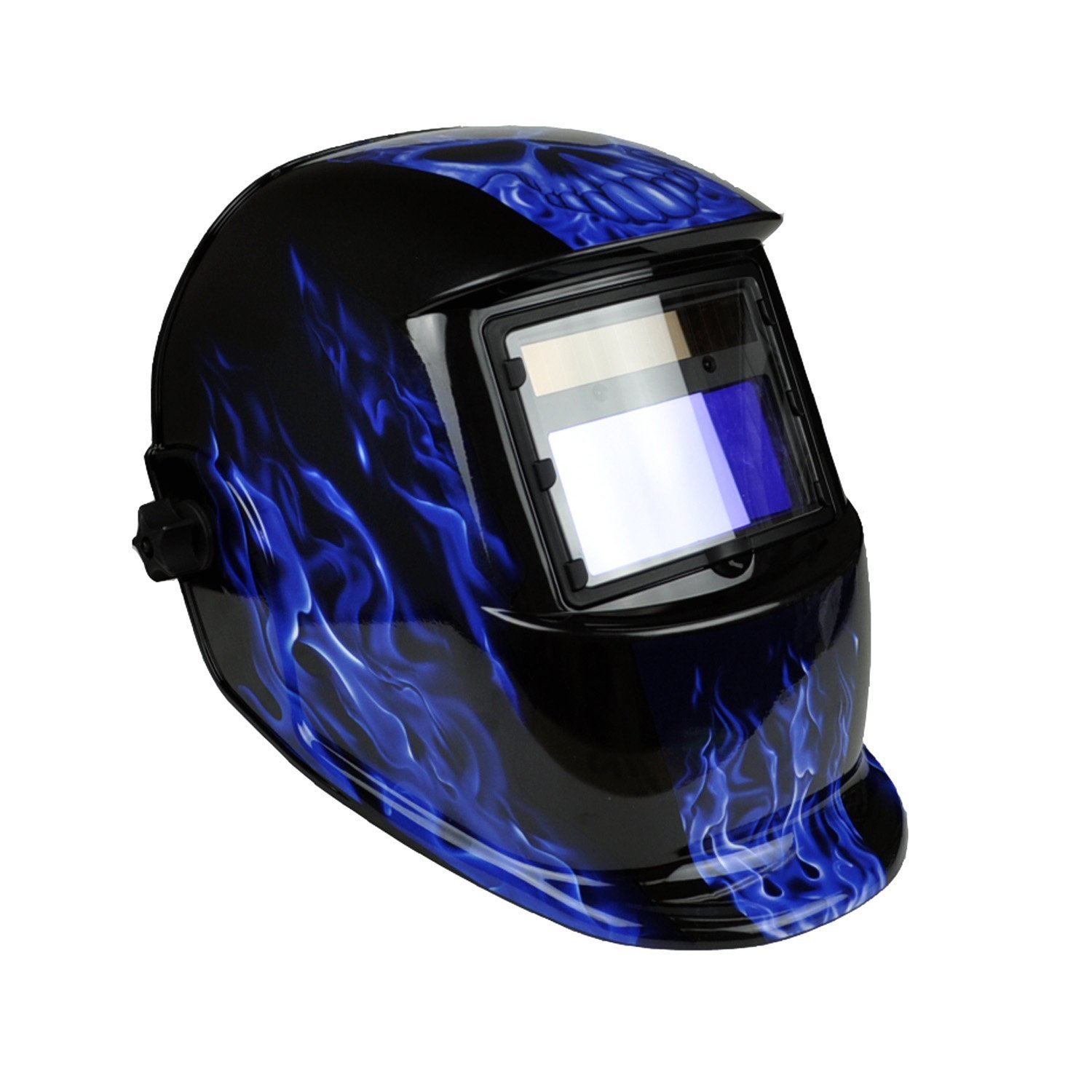 Another wide variable shade range helmet is the Instapark ADF Series GX-350S Solar Powered Auto Darkening Welding Helmet with Adjustable Shade Range #9 - #13 that has a quick switching time of 1/15,000 seconds.
Its 9 to 13 variable shade and 3.5 by 1.375 viewing area makes it a great welding companion and protection against harmful elements. Its versatility allows you to use it for a variety of welding processes, but it might not fit perfectly for all head sizes.

Best High End Welding Helmet!
Jackson Safety With Balder Technology:
Scoring a perfect 1/1/1/1 on the EN379 optical clarity rating classification, the Jackson Safety BH3 Auto Darkening Helmet with Balder Technology (37191) is a versatile ADF helmet that has a whopping 5 year warranty due to its high quality durability and features.
You can install hard hats and magnifying lenses and it's also easy to wear.