8 Welding Books I Highly Recommend!

I love good quality books on welding and metalwork. But what I don't like are outdated, boring books on welding and metalwork, except for 101 Metalworking Projects, and a few other old guides...
I've spent several thousand dollars over the years on books and DVD's. And only about 30% of them are of any use.
As a result I thought I would share with you my list of the best welding books according to what I go back to the most when I want to read up or learn something (other than my welding DVD's which I also like very much).
 Side Bar: I posted one welding book that does not teach welding or fabrication on any kind. It's story about a welder and it's well written. Can you find it?

Here's My List Of The 8 Best Welding Books:
Another unique and fantastic book of projects: This is a fairly new book which has thirteen welding projects which include detailed close up pictures, basics plans that anyone can understand, and specific step by step directions on what to do and how to do it. The details also include types of special tools you may need for a project but nothing super fancy or expensive.
You can use any welding process you want to complete every project listed in this creative book: flux, stick, tig, mig, or gas. 
The projects are for beginner and advanced welders who want to build creative, unique, and challenging projects with basic welding equipment and tools. This is my new favorite. Highly Recommended!
There's A Lot More Than Meets The Eye In 'How to Weld':
Todd Bridigum's book on welding is not just a tutorial book on how to weld. It is a book that gets into the history of welding and why it is such an important skill to learn. While reading this book, I could easily tell that Todd has a fascination for metals and being able to manipulate them through the various kinds of welding that he talks about.
He gets into gas, TIG, brazing and stick welding; just to name a few. The book is full of beautiful pictures that show all of these different kinds of welding along with complete explanations as to the process of performing them effectively and efficiently. I have always been a do-it-yourself kind of guy and welding is certainly a skill I have wanted to pick up for awhile. My only complaint about this book isn't really a complaint at all.
It's just that the book goes on for too long about the history of welding and I was only interested in the "how to weld" part of the book. But still, how can I really complain about a book that has too much information? So, if you want a good book on welding then do yourself a favor and purchase this one. It is great.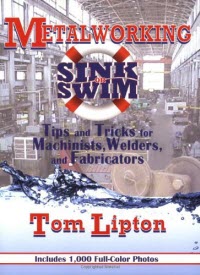 For Welders, Fabricators, and Machinists:
This book is a "must read" for machinists and anyone who likes to fabricate metals. There are a lot of welding tips and illustrations that any welding enthusiast would love to look at. However, there are no real tutorials on metal working and welding in here.
It is just Tom Lipton teaching the reader various tricks and tips that experienced welders can appreciate, however novice welders will be left in the dirt.
If you don't understand welding or if you are just starting out, I wouldn't get this book. Even with all the illustrations and metal fabrication examples, you still won't understand the process of doing it if you have never welded before.
This book basically just gives experienced welders additional information on setting up their work shop, sketching, choosing the right materials, sawing, turning and more. Plus, this book has a lot of spelling and grammar mistakes. Whoever Industrial Press hired to edit this book should get fired.
Luckily, most people will be too busy looking at the pictures to notice. Overall, a fun book to look at if you already know about welding. If not, try to find some beginner books.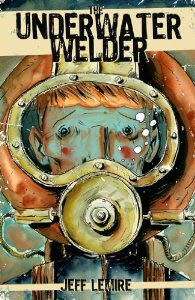 Want To Weld Underwater?
This is a story book and I liked it so much I am throwing it here. When a friend first recommended this book to me, I thought it was another tutorial book on how to weld. I had no idea it was a fictional story that involved underwater welding.
As I started to read the first few pages I was immediately hooked into the story. The character, Jack Joseph, lost his father when he went diving into the water 20 years ago and now Jack has to go into the water for deep sea welding.
What's worse is he has a pregnant wife at home and is haunted by the death of his father, which makes the pressure of his job even worse.
Later on in the book you find out there are more twists to this story, which even involve elements of fantasy. I never thought it was possible to write such a "deep" book about welding, whether it were fiction or non-fiction.
Jeff Lemire, who I only knew of as a comic book writer, seems to have something else inside of him to be able to write a story like this. Whether you are interested in welding or just like to read good fiction, I would recommend reading this book.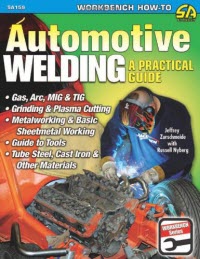 Do You Want To Weld in The Automotive Arena?
This is not exactly a guide that teaches you on how to be a good welder, but rather a guide that shows you how to perform automotive repair using basic welding techniques. The welding part comes into play with the metalworking of the automobile and this guide implements the use of aluminum and arc welding for it.
The book explains things like grinding, cutting, working with sheet metal, frame repair, body repair and more. It even talks about how to build your own custom automobile, like a rat rod or hot rod. 
However, the book won't teach you how to improve your skills as a welder.
These skills are something you must already possess before reading this book. Otherwise, go find a how-to book on welding before attempting automotive metalworking or else you'll be lost if you don't.
This book simply teaches you how to use the skills that you already have as a welder and apply them into automotive metalworking. So, if you are a welder who likes to tinker with cars then this book is definitely for you.
Developing Your Welding Skills:
This Welding Skills book by R.T. Miller is a very advanced book on welding; however, it is one of the few advanced welding books that are actually easy to understand. One thing particularly helpful is the American Welding Society terminology details that are indexed throughout the book.
As a novice welder, I found myself learning new welding skills without ever welding a day in my life. This book was required college reading for my beginners welding class, but now that I've read it I feel like a pro.
Miller talks about the major processes of welding and even gets into the requirements for the welder's proficiency test, which is something that isn't covered in any other welding book that I've read.
The book also has hundreds of illustrations to go along with the text, which makes understanding the welding process so much easier. I recommend this book for both beginning and advanced welders because it contains welding information that is useful to everyone.
The Industrial Revlotion Is Long Over. Modern Day Welding Techniques Are Requred:
This "modern welding" book isn't so modern anymore. This book was first published in 1970 and it doesn't seem to have a lot of colorful illustrations like the more modern day books have. 
However, this book does cover every kind of welding imaginable; from gas welds, stick welds, TIG, spot welding, plasma and automated welding.
I thought since this book was so old that these techniques wouldn't be relevant today, but they are. The only difference is the equipment of today is a lot more advanced, but you can still apply the same principles from this book with any kind of welding equipment for all welding projects.
This book might be a little scary for beginners because it has a lot of text to read through with fewer pictures. I guess back in those days literary learning was more important than visual learning. So, if you can force yourself to read through this book then it is great reference material for all welders.
Finally, a welding book that was written for beginners! Do you want beginner techniques and project plans?
This book explores the use of various welding tools, the basics of metal, setting up your workshop, processes of cutting and a high emphasis on safety procedures. However, the majority of this book provides project plans and tutorials on various kinds of metalwork projects.
These projects are great practice for a beginning welder because it helps you gain hands-on experience, which I think is the best way to learn anything. This is the first book I've read that actually helps novice welders like this. There are even pictures in the book that help the reader visualize the process of welding.
A lot of people I know that have read this book told me it is bad because it doesn't really teach you the whole process of welding, but just provides techniques and tutorials on various welding projects.
In my opinion, it depends on what kind of learner you are. If you can learn from somebody explaining how to do something, then you should try a different book.
If you like a hands-on approach to learning, then try this book out. The projects that are in this book are for beginners and it should be easy for anyone who is interested in welding to accomplish these projects.
If you found my best welding books list above helpful or if you have any other book recommendations please post them below...

---
Have A Welding or Metal Work Book You Want To Recommend?
If you have a book recommendation not listed here for welding or metal work list it below and describe it please in 150 words or more if possible.
What Other Visitors Have Said
Click below to see contributions from other visitors to this page...

Metals And How To Weld Them By James F. Lincoln Foundation

I highly recommend this hardback book from the James F. Lincoln foundation. It's called Metals And How To Weld Them. This book describes all the different …
---
---