Review Of Metal Benders For Scrollwork, Ornamental Work, and Tubing.

There's at least a dozen metal benders for the type of work I need. So I got confused. I asked some experienced metalsmiths and fabricators what they like and here is what I came up with.

After researching and speaking with several fabricators and metalsmiths the metal bender of choice for all kinds of different scrollwork and much more was the Winona Minnesota made Hossfeld Bender.
The Hossfeld universal bender has long been sought after by the smithing community. It is pricey, but works very well and lasts forever.  There are many scroll jigs to choose from.

A very good metalsmith (Chris Rand) told me that the smaller #1 model bender has been a crucial part of his shop for over a decade. It took Chris a few years to find a used one at a good price though, so in the mean time he made do with a Harbor Freight knockoff that was on sale for around 100 bucks. He says that the dies that come with it are great and he still uses them in his Hossfeld.
Hossfeld benders are heat treated to last a lifetime and and the tooling is unmatched. It's the cream of the crop when it comes to benders that can do everything from metal scroll bending, tube bending, and much more.
It's not all that expensive for what you get. But you'll spend over $1000 after it's all said and done.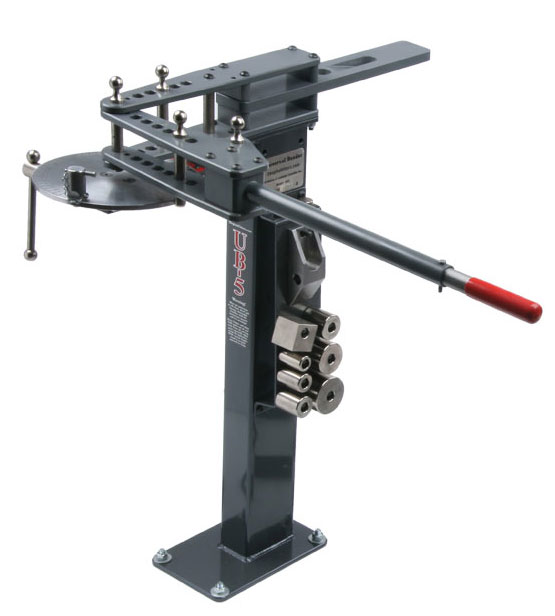 The Shopoutfitters bender is another well made metal bending machine. Actually, they make several. Their tools are precision made and any of the tools they make that needs heat treating is heat treated. Heat treating makes tools much more durable.
Shopoutfitters makes a tubing bender that also bends flat bar, square tubing, solid round, solid square, and pipe.
Their products are made in the USA! And many fabricators love this bender. As a matter of fact over 30,000 of the older version were sold. They just updated it to a newer model.

Get on their mailing list at the very least to see all their stuff. A benefit is that you'll get metalworking ideas from their information as well.
JD2 Benders: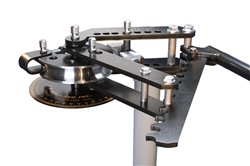 Here is why you should also consider a JD2 Bender:

All JD2 benders are made in Tennessee.

They are made with better material, metal, and they are also powder coated.
The die sets for the benders are top notch.
The follow bar inserts are made of a special alloy that doesn't scratch steel and is self-lubricating.
JD2 benders bend round tube, pipe, and square, but they don't do flat or angle.
Here are their two most popular manual benders:
Cheap Alternative Metal Benders: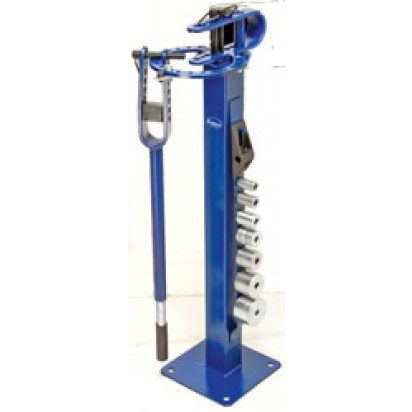 If you can't afford the hefty price tag on a Hossfield or Shopoutfitters, or even a Jd2 bender, then here are two low priced alternatives you can use while you save up for the good ones:

The Eastwood Heavy Duty Metal Bender. This cheap bender is not made in the USA. But it bends 5/16 inch x 1.25 inch and .25 inch x 2 inch mild steel. It can bend 5/8 inch square or round rod, and it also bends solid stock.
It is not for bending tubing.

It is 34 inches high.
7 dies are included.

At least two fabricators I know use the Harbor Freight bender. Three if you count me. The main reason is because it is really cheap. I will be getting a Hossfield #2 shortly though. Anyway, you can't beat the price and if you get their coupons you can get an additional 20% off.
This bender bends round or square stock up to 5/8 inch.
You get 7 dies.
It is almost 36 inches tall.
You'll want to get the .5 inch picket twister attachment.
How Metalsmiths and Forge Welders Bend Metal and Make Scrolls:

Metalsmiths do most of their work hot and by hand. They use a simple jig at times to help make sure each scroll is very close in size to all the others.
However, one can certainly use a bender, its just that the finished product just doesn't have the same look and feel to it. The finished product looks machine made when you use a bender like the ones above.

Many metalsmiths use a small bender that is homemade. They will take a disk of sheet steel that fits in a vise, and it works just fine.
You can see one here (the video quality is poor but this guy made a nice homemade scroll jig):
If you are looking for a machine that would turn out large quantities of architectural ironwork for business, then that is a whole different sort of question.

If you want to learn how to scroll by hand using forge, hammer and anvil, take a beginning smithing class. The scroll designs are endless and they are a lot of fun to make.

Doing A Little Bit Of Bending?

So if you are only going to bend one-off custom ornamental work, or if you only doing repeat bends, say about 5-10 pieces at a time (per project), the Harbor Freight bender is probably your best bet for now.
But if you are going to be doing this longer term, then invest in a Hossfeld. 
Truly the easiest way for these projects at only 5-10 per project would be to hand forge them, but with the use of a hand made scroll jig that duplicates the scroll you are wanting to copy. Like this:

Here is the Harbor Freight in action:

References:
Copyright WcWelding.com All Rights Reserved.