Making Money Welding From Home!
Would you like to make a living at welding and do it as your own boss, working in your own at home shop? If so, what are the kinds of projects that will sell and how do you go about selling them? 
Perhaps you would just like to work at home but not have the pressure of being very independent. Finding a company to hire you as a contractor is the answer you might be looking for. What kind of tools do you need in a home shop if you are going to make money as either an independent or a contractor?

One of the first things you need to know and to remember is that you either don't want to make things or fix things that might create a liability for you if your welds fail, or you should purchase commercial liability insurance.

If you want to make money welding from home or commercially here are a few tips to get you started (this is not legal advice on starting a welding business):
Setting Up Your Home Welding Shop!
If you are going into business for yourself, you need a place to work and tools to work with. In this regard, you have three options.

Use someone else's shop either as a favor for free, as a bartered agreement, or pay to use their space. This option might also include using their equipment or it might restrict you from doing so. In this option, you save money and potentially lose time. You would only have access when the owner of the shop is not using it and that would almost certainly be outside of prime working time.
Set up shop in the back of a truck. If you already have a work truck this is not that expensive of an option and it allows you to be mobile. You can go to the customer instead of having to do the work at your/another's shop. If you do not have your own truck you need to buy one and it needs to be a heavy-duty truck not a small, cheap pickup. This would be your greatest expense in this option.
Set up your own shop. This requires that you have a place to do this. Many welders set up in their garage or build a small shed on their property and fully equip it. This is of course the best long-term solution but unless you have the resources, it might have to wait until you make enough money to build it out.
Once you have established where you will work you'll need to get the necessary equipment. Almost every welding machine manufacturer is going to have their own 110 welder. 
If you have a 220 outlet you may want to get a more powerful machine, but for starters, most 110 machines will do a very good job, especially Millers, Lincolns, and Hobarts.
You'll need a grinder or two. A 4 1/2" and 7" would be the best option. 

Let's list the basic equipment to make it easier to follow:
Mig welder – something like a Millermatic 140 or a 250 with an option to pulse.
If you would rather stick or TIG weld then get a Midsized Tig or Stick welder. Get higher end machines (Brands) for reliability and resale value. 

A grinder. Don't buy a Harbor Freight one. Get a good one.
A Hossfeld bender or something similar. Harbor freight actually has a decent one for the money. But you can also build one yourself.

As portable metal cutting bandsaw. This will come in very handy.
A small press brake or Chicago finger brake.

Cutting torch – oxy acetylene or a Plasma, or both! You'll want the torch for pre-heating and other uses.
Smaller tools to consider: hole punch, metal shear. This is a great dvd on hand tools.
In addition what you can make is your own rack heavy tresses. Using 2-meter length, 150 meter wide channel. You can then weld metal legs to it and this would be a great start. Then get yourself some plates in various sizes such as 800x800 up to 10mm thick.


Money Making Projects!
Now that you are set up and ready to go, as well as broke from the expense of your setup, you need some projects to get you going.
Experienced independent welders make and sell a variety of items. Some of these are simple, some more difficult and some very difficult. Usually the more difficult items and projects make the most money. You can sell your items online at eBay, etsy, ebid, Amazon and more. Or you can create your own website (which I advise).

Many welders sell their creations at flea markets and fairs, art shows and farmers markets. If you are making commercial items and parts then you need to meet the owner manager of every engineering shop in your area, put out flyers, and give out business cards at every opportunity.
My friend started his own machining shop in his garage and now it's a multi million dollar business with thirty employees. If he can do so can you.
Here Are Some Things You Can Make and Sell At Fairs, Flea Markets, Online, and Wholesale:
Bottle trees from rebar Napkin holders.

Yard art Drink holders.
Home furnishings Picture frames.
Mirror frames Towel racks.
Light fixtures Letter holders.
Tables - corner, coffee Coat racks.
Plant hangers Wine rack.
Candle holders Trailers.
Fireplace log grates.
Smoker from a 55-gallon drum.
Coat racks Picnic tables.
Lamps Book ends.
What's Your Niche?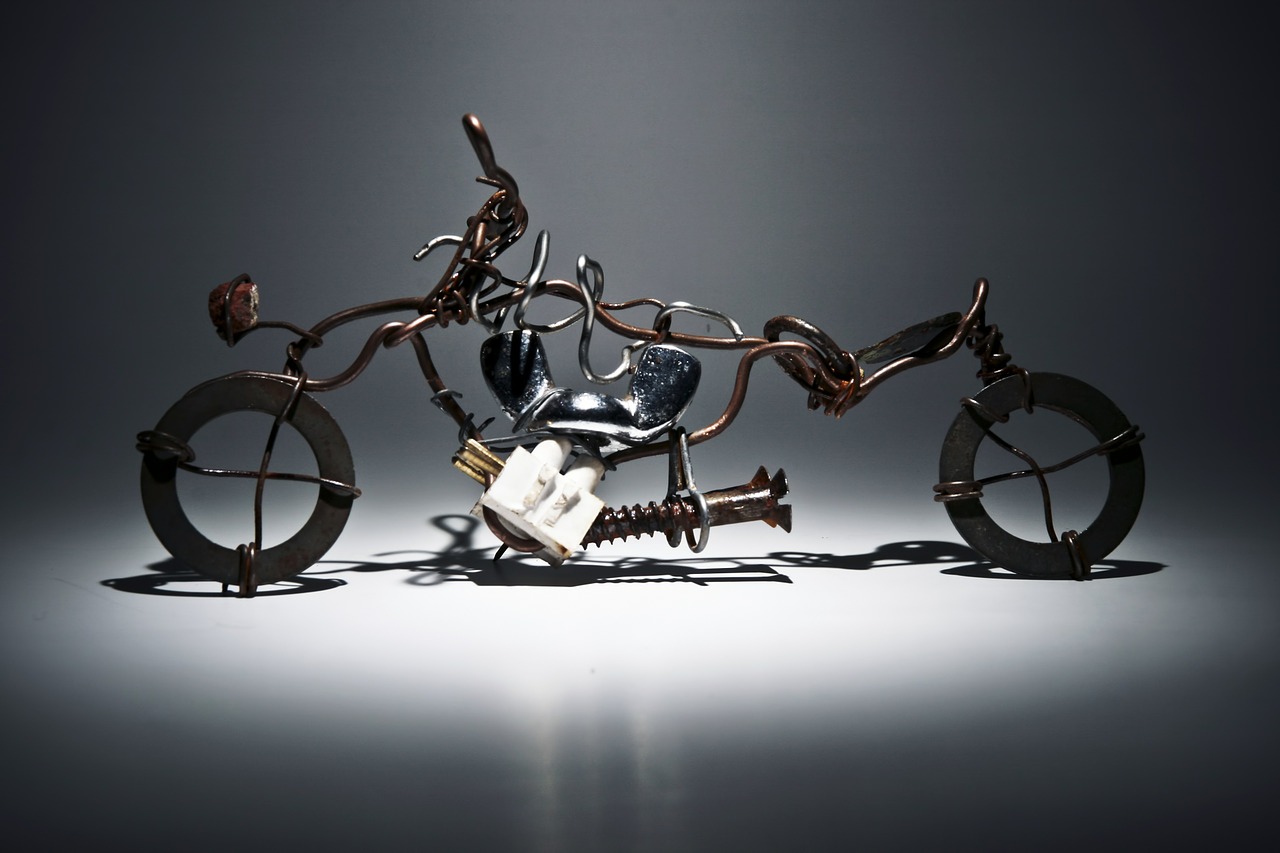 Smart metalworkers and crafters not only make cool metal art, tools, and furnishings, they also choose a niche market and make items that are desirable in their niche.
What is a niche? It's a group of people who share the same interests. A good niche market is one where the people in it are passionate about what they do. For example, how many golfers do you know are obsessed with the game and everything that goes with it? What about fans of the NFL, NASCAR, the NHL? Pet owners are passionate beyond belief (have you seen any cat videos lately?)
If you have a niche that you are passionate about why not create something with metal that is related to it and see if it sells? There's no limit to the niches you can target either. But it's a good idea to focus on why that is a winner.
Examples of niches and money making project ideas to consider:
I know of metal craftsmen who can't keep enough of their wares in stock. One guy caters to the horse market in his area. Another guy targets golfers and sells wholesale to shops. 
Another retired gentleman near me focuses on fear markets and farmers markets and makes metal art from scrap metal. His stuff flys off his table at most of these events. You might be wondering what his niche is. It's a broader niche which would be scrap metal art and targeting the general public. However, there's nothing stopping him from targeting a smaller niche as described above. 
There are several subscribers who fabricate higher end tools and parts for motorcycle builders. They build hard to find or complicated parts like springer or girder front ends, hand hammered gas tanks and oil tanks, fenders, handlebars, and more.
Trailers are an underserved niche in my opinion. Build a few and sell them. The ones that are the hottest sellers you can fabricate in no time with a jig in your garage.
How about mountain bike or street bicycle frames? This could be a nice little niche in your area.
Sky's the limit as you improve your skill.
Commercial Items To Consider:
Three-point carry all's.
Steel-plinking targets.

Three point hitch receivers.
Brush guards.
Clamp on tractor forks Light bars.
Clamp on receiver hitch holder.
Pre-runner bumpers.
Intakes and headers for imported cars.
Gates and fences.
Custom work.
Want To Be A Welding Contractor?
Being on your own and having to find all your own customers and clients is not for everyone. So many welders who want to work on their own and run their own show also want to be guaranteed work. They want to know the projects are there and that they will be paid. These welders become contract welders. This means they were independent contractors not employees but there was more security in having a contract f or a certain amount of time and/or amount of products.

How do you get contracts?
There are all types of companies/industries that might use an independent contractor for some of their projects. In fact, the government might do this as well. The defense industry and the energy department both use independent contracting welders. \r things you need to do in order to get good welder contracts include:
Create a high quality business card and mail it out to every business that might use your; Offer your services as a contact employee at a rate that is comparable to other contractors.
It might not be easy to start with but building your own welding business, either as an independent or as a contract employee, but it certainly can be attained. If you really love being on your own and you really love welding, then it will just take some hard work on the front end to get going and spend your life doing what you love to do. Not everyone is so lucky. Go for it.
Your Online Presence!
Making money as a welder and metal craftsperson is a business and there are mutliple ways to sell your work online. The number 1 site for craftsmen and women is ETSY. 
However, eBay and Amazon are massive power houses that you must get your products on. There are entire courses devoting to each of these sites. Simply uploading images and a short description is not going to sell your products on these sites so listen to the experts on each of them. 
Recommended courses for selling on ETSY, eBay, and Amazon:

Last but not least is you should have your own website devoted to selling you and your metal creations. By the way, notice I said 'You'. People don't just buy something because it looks nice, they are buying you. So make sure your character and charisma come out on the site and in your product listings. Otherwise your site will look and feel like a generic boring site that is not being 'lived in'.
I've been selling products like this online for 15 years. The second people feel like they are on a site that is not owned by a living breathing person (or artist), they will leave faster than you can say 'laying beads'.
This is the commerce business in a box I've been using to make a full time living working part time online selling my own products, passively. It took time like any business does but it's a real business that grows year after year.

"If anyone says you can make money instantly online with your own website run like the wind."
Getting Serious!
If you really want to make money welding and working with metal then you need a marketing plan. If you don't have a plan you can't grow your business nearly as fast as you would like. 
Think of your business as ship that has set sail. Where is it heading? What are going trying to achieve? What are it's short and long term goals? A marketing plan is the navigation system that will steer you in the right direction. Sometimes it will be off but with minor tweaks and adjustments it will get you back on course.
Set your goals, and put them on paper. That is a marketing plan in a nutshell. Here's an old saying I like very much and maybe it will serve you as well. "There is no such thing as a goal you can't reach; there are just unrealistic time frames."