Welding Advice: Ask A Question Or Post An Answer!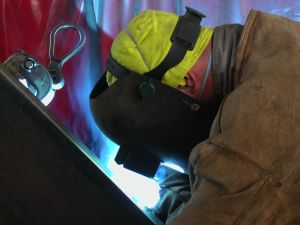 Welcome to our new welding advice page. Where you can ask a welding question or answer a fellow welders question and solve their problem.
Whether you have problems welding plated metal, stick welding problems, or you want aluminum welding questions and answers, whatever your problem is in terms of welding and fabrication, post it below.
Or, help a welder out. Click on any welders post below and see if you can help them out :-)
You may also want to check out our page on causes of welding difficulties and their solutions.
Here Are Examples Of Questions Answered By Our Subscribers (Fellow Welders Around The World):
Copper To Stainless Steel? by Andrew Jenkins (New York):
I was wondering if you could tell me the best or easiest way to connect copper and stainless steel. I have had people tell me to both sildering in or tig weld them together. Comments for copper and stainless steel
Welding Advice by 'Anonymous': 
Tig welding with silicon bronze filler rod works well for this. Depending on the thickness of the copper, it could take quite a bit of heat to get started, as the copper dissipates the heat so quickly. The annealed copper will be very soft afterwords also.

Brass to Brass Tig Welding?
First time at it. Using Tig for Brass to Brass tig welding. Any tips on how to do it like what amps to use on it, gas, filler rod to Tig on Brass pipe also Steel too? 
Welding Advice by 'Steamfitter Welder':
Years ago working at the Hanford site we would use a welding rod called everdoer to weld brass and dissimilar metals. Check with your welding supplier as I not sure if this was a nickname besides the tech people for these companies are well versed. Take your time weld some scrap together and do some of you own testing maybe with a vice and hammer to determine the strength of the weld. Hope this helps good luck.

Best Way To Weld C Purling? by Kirk Potter.
What is the best way to weld C Purling to say 14 gauge square tubing that is galvanized. Unable to use a mig machine in this application. Note we are using 1/8'' -6011 rods at 65 amps. This still seems to be too hot and we are burning holes. our travel speed is fast. Sometimes too fast to get correct penetration and we have to go back and re do the weld. Rod angle is around 5 degrees.We are not allowed to use 6013 rods on this project. 65 amps is really low for the 6011. Difficult to start. Suggestions please? Thanks Kirk Potter. 
Welding Advice 'WeldingRoid': 
You are, of course, removing the galvanizing down to bare metal before attempting to weld? 
Advice by: Rick Tanguay 
Your welding rod is thicker than the material you are welding. I would try using a thinner rod and welding with a small weave pattern. The fumes produced when welding galvanized material are very toxic. Take precautions so you don't breathe the fumes.

Beginner wanting to succeed. by Matt Harris (Mulkeytown IL US).
I just purchased a used miller 250, got 25\75 I am looking for tips, sites maybe some used dvd's I can watch. I have plenty of wire and gas. Plenty of scrap metal I can practice on I'm just looking for some experienced welders advise. HELP! Comments for Beginner wanting to succeed 
Advice by jm welding: 
I would start by attending a class in Welding. By me in Ohio they have Polaris Career Center which is cheapest about 400 bucks for like 40hrs something like that. Also for scrap metal maybe going to a local automotive shop or even maybe a local metal business. Also, maybe on trash day look around people throw out all kings of stuff. 
Advice by David B:
Although I'm a beginner as well, I'd love to know where to get "lots of scrap metal" to practice with. I went to the local J.C. and took some classes on Oxy, Mig, and Tig. Gave me some good basics to start with.

Oxy Acetylene Welding Tips?
I have been doing a little oxy acetylene welding lately and I'm having trouble getting corners and welding plates of metal on top of each other any tips? Comments for Oxy Acetylene Welding Tips? 
Welding Advice by ms B: 
If it is an inside corner add a little extra Oxygen because the falme needs more tomake a neutral flame in a restricted space. Cleanliness of the welding tip, material and filler rod is always great advice too.
Advice by Jim: 
CC is right. I can only add, "is your work clean"? Contaminants will keep your work from sticking. 
Advice by CC: 
I would check your welding tip size. Different tips sizes are for different metal thickness. You need to set your oxygen and acetylene gas pressures to the manufacturer settings. Gases setting for each tip size. The size of tip is governed by the diameter of the opening at the end of the tip. Most common system consists of number that will range for 000-15. The large the hole in the tip, the greater the volume of heat that is provied. An increased volume of gas is also required for the flame. Be sure you are using a Neutral flame. 

Have A Welding Question or Advice To Share?
Do you have a welding question or problem, or do you have some expertise to contribute? Share it!
What Other Visitors Have Said
Click below to see contributions from other visitors to this page...

---
For more welding advice, tips and project ideas be sure to sign up for our free quality mini course.

---
---