How To Start A Mobile Welding Business: Marketing and Start Up Tips...
If you want to start a mobile welding business then I have some unique and interesting information that will help you...
OK. So you read the article in starting a welding business. Good. Now lets talk about a portable welding business.
You can make a good living as a mobile welder. Of course, you'll have a more diverse range of business opportunities if you have both a portable welding business and a fixed welding shop location.
But if you want to stick to mobile welding, that's fine. First, take a look at your market. Is there room for a mobile welding business? Is there a market for one? A good idea would be to open the Yellow Pages and take a look and see how many here are. If there are quite a few, then you know there is a good market for it, but you'll have competition.
So now that you've established that there is a market, then it's time to get your mobile welding equipment. You can find a lot of portable welding equipment for sale here on Ebay.
Now it's time to start your mobile welding business. Like I said, be sure you read the article on starting a welding business first because I am not going to go over those points in this article. In this article I am going to give you a few tips that will help you get more business than you competitors.
99% of the welding businesses out there are lousy at marketing. And that's good for you because you don't have to get good at marketing. You just have to get OK.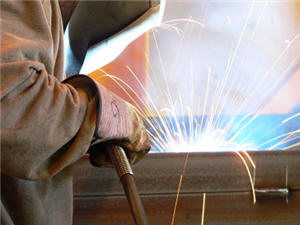 Mobile Welding Biz Tip #1: Target businesses that need mobile welding services and send them an introductory letter along with a magnet they can put on there refrigerator or machines in the shop. Make a list of industries that you think can use a mobile welder, look in your yellow pages for those businesses, and then send them the letter: Farms, Shipyards, Trucking Companies, etc. etc. Or, target industries that hire subs like general contractors etc.
Don't send a mass mailer that is not very personal. Make sure it looks personal and is personalized with your prospects name in the salutation.
Mobile Welding Business Tip #2: Get a yellow pages ad up. Make sure your ad has a headline like: Do You Need A Mobile Welder? Then write about why they should choose you as their mobile welder. Do not use your business name as the headline. Nobody cares.
Mobile Welding Business Tip #3: Send Thank you notes to all new customers. Nobody does this, and it will differentiate you from your competition. Do it. It will pay off big.
Portable Welding Business Tip #4: Get a lead generation website built, and make sure it is optimized for the keywords in your industry. A lead generation website is a website that's sole focus is to get a prospective customer to give up their contact information so that you can follow up with them. For example, offer a free report or guide in exchange for your prospective customers contact information. And then follow up with an autoresponder (an email system that sends emails out on pre-scheduled times with information that they requested or might be interested in...like a newsletter).
Mobile Welding Business Tip #5: Get a Google Adwords Pay Per Click campaign going and drive traffic to your website.
Mobile Welding Business Tip #6: Send out press releases to get free publicity from your local papers.
For more tips be sure you sign up for our Welding Tips and Trick mini course.
Related Articles:
This article is for information purposes only and are not warranted for content, accuracy or any other implied or explicit purpose.
---
---