Completed Pellet Stove Fire Pot Project
by Ernest Murphy
(Oregon)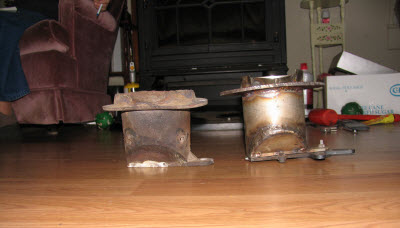 Fire Pot Before After
The Fire pot parts were cut, freehand, using a thermal dynamics cutmaster 51. The Tig welder is aLincoln Precision Tig 275. The material was ¼ inch Stainless. The pipe itself was is schedule 40 310 series stainless. Maybe any stainless would have been sufficiently better than cast iron, but I would have to test that theory. I know 310 stainless will not get too hot and cause deformation from corrosion or heat in the pellet stove.


On the finish part, I ran a bead around the bottom side of the top flange because the top, must be leak free for the air to come through the holes
On the compare pics it shows there are some slight differences. The bevel surface is the pellet target on falling into the pot, forcing the pellet to favor a position in front of the igniter. I have to put one gusset on the clean out pivot tab and drill two holes on the top flange before installing the burn pot. But I have tested it, and it does work. I ran out of argon and I will get more this week. But it won't get much better than this.
Thanks for reading about it.
Pellet Stove Firepot
by Leroy
(Albany Oregon)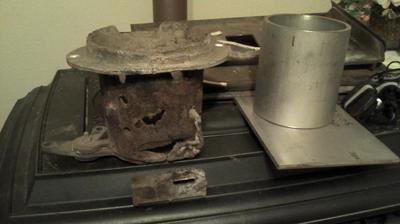 The noodle is wrapped welding rod to help keep the pellets in the pot.
I have a pellet stove made by Quadrafire, the Fire pot is disintegrating. Apparently The Firepot is cast Iron. The clean out plate and the Ignition support are Stainless the ignition support has fallen off two years ago we paid 2500 for this 4 years ago. The new firepot is 350.00.

I bought a piece 310 stainless 4.5" schedule 40 pipe 5 inches long to replace this pot. Also a plate to make a flange for it to support the pot.

I have a Precision tig 275 with the Pulse module and water cooler. I have been wondering what the best set up would be to weld the flange to the pipe?

I have a plasma torch but I don't have much experience. I understand the 310 reacts well with a pulse with regard to residual stress and the heat affected zone.

I don't expect much because this is a shot in the dark for me from the get go. but I'm not going to cough up another 3500 for something that should have lasted 10 years or more. Thanks for your time and advice...

Finished Pellet Stove Fire Pot.