Press Used For Making Segmented Bowls
by Rick Tanguay
(Southington, CT)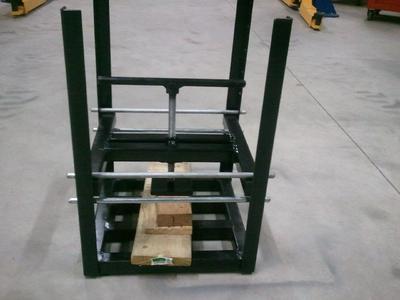 Segmented Press
As a hobby, I began woodturning on a lathe. I progressed to making segmented decorative bowls and urns which are made up of numerous rings that need to glued and pressed together so the joints will be very tight. I constructed this press which does the job perfectly.


It weighs about sixty pounds. The base and top are 1.5" square tubing and the corner uprights are 1/8" 1.5" x 1.5" angle iron. The threaded shaft is 3/4" diameter steel. The footprint is 16" x 16" and it stands two feet high.
First Image:
The silver bars on the press can be raised or lowered to accommodate different height projects.
Second Image:
Side view of press
Third Image:
The press is used to make segmented bowls like this.
Fourth Image:
Segmented Urn almost finished.