Ron Fournier The Metal Working Legend!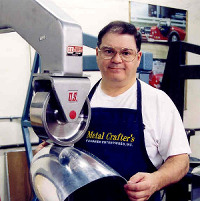 Ron Fournier is seen as a specialist in the metal working and shaping field, with over forty years of experience in the metal working field it's not hard to see why. This career has seen Fournier work in the custom automotive and motorcycle field as well as the aerospace industry. 
After enjoying a youth that involved dreaming of cars and motorbikes Fournier went through college before joining Holman and Moody in 1964, the time his career really began. At Holman and Moody Fournier grew in confidence as he honed his skill to become a hugely successful metal worker in the automotive industry. In fact during this period Fournier worked with many racing teams and racing great to produce various components for their championship-winning race cars.
The skills that Ron Fournier proved to possess became knowledge of many mainstream large vehicle manufacturers and Fournier found himself with contracts for giants such as General Motors, Ford and Chrysler where he was required to train staff and show off his fabrication skills to great effect. 
It wasn't until the 1970's that Fournier decided it was time to start his own business; this business was developed with his wife and was founded as Race Craft. In a short time Fournier's skills forged Race Craft into one of the best fabrication units found within the borders of the United States. 
The success of Race Craft prompted Fournier and his wife to put pen to paper and write two books on the metal working within the automotive industry subject. These two books are entitled Metal Fabricator's Handbook and Sheet Metal Handbook. 
As Fournier grew in stature and his children grew in age Fournier taught his children all he knew and in 1991 with the support of his wife and children he started Fournier Enterprises. Fournier Enterprises has many facets such as full-size custom built vehicles; Metal Fabrication Workshops, instructional films, as well as a line of signature tools and equipment. 
While Ron Fournier now has the help of his children, with his daughter acting in a marketing capacity and his son being a hands on metal worker in the guild of his father, Fournier is still very much the linchpin in the design and building process at Fournier Enterprises. 
With over four decades of experience behind him and still carrying a huge drive to achieve even more it doesn't look like Ron Fournier is going to retire anytime soon, which is a huge relief to all metal working fans who love his work.