What You Need To Know About Underwater Welding Schools And A Career As A Welder Diver!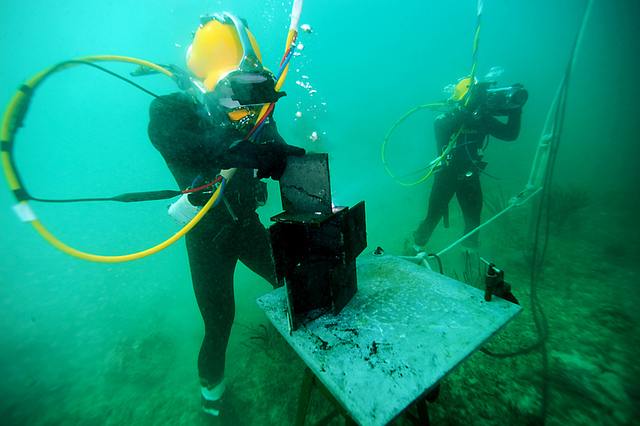 Underwater welding schools give you the opportunity to develop the very specialized skills required to enter the lucrative, challenging, and exciting career field of welding in, under, and around water.
Those employed in this area of the welding industry often earn incomes in the same range as do doctors and surgeons. According to AWS the average salaries for welder divers ranges from a low of $100K to a high of $200K or more.

Well trained welder divers are highly sought after by companies performing work requiring this skill because it's a highly specialized skill that requires significant training and field work (hours in the water, and welding).

The training you need from includes becoming a commercial diver, and certifications in welding.

The other opportunity in become a certified diver and getting certified in welding is that you can start your own business. After completing underwater welding training and gaining some experience, it is possible to reach your goal.
Becoming a certified scuba diver by training with a recognized dive school prepares a student to advance into commercial diving school.
Working beneath the water requires safety, an understanding of the environment, psychology of diving, underwater communication, and a thorough understanding of how to safely use and maintain the equipment employed by commercial divers.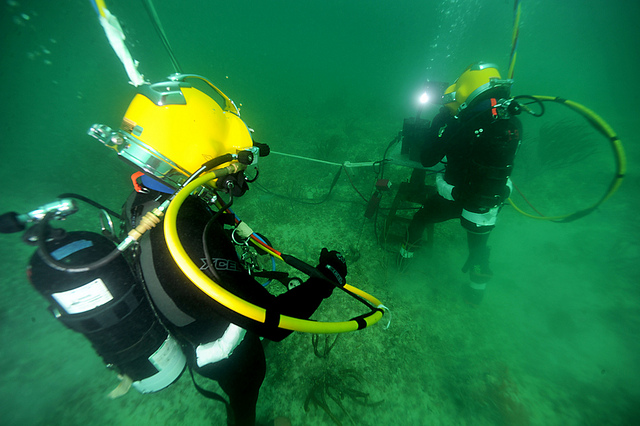 Underwater Welding School Prerequisite?

The welder diver must understand the types of welding performed underwater, how to safely set-up, use, and remove equipment from salt and fresh water, and associated tasks.
Most underwater welding schools expect a student entering the program to have completed commercial dive school as a prerequisite. Most also require students to have completed certified welding training. The reason for these requirements is that the training is so specialized that it is virtually impossible for a school to begin with the most basic training.
Instead, underwater welding schools focus on development of specific skills for those who already possess the twin skills of commercial diving and welding.
Underwater welding schools are, by necessity, located in areas with direct access to deep water such as coastal cities. It is wise to select a location for your underwater welding training which has a climate you can enjoy.
With schools located from the cold waters of Canada to the warm climates of Florida and California, you can be sure to find an accredited institution in a region you will love.
Training to become a welder diver requires anywhere from six months to as long as two years of commitment, depending on the specific school and their specific programs.
Because the programs for students training in the specialty of welding underwater generally requires the completion of both dive and welding training, the curriculum focuses directly on those skills and techniques required for working below the surface of bodies of water, either in seas or gulfs or in deep lakes.
These skills are really quite similar to welding above water but the environment is drastically different and extremely stringent specifications must be met to ensure each weld is done properly and will withstand the pressures placed upon it when moving through the water.
Basic Requirements!

If you wish to attend underwater welding school, it is important to be in good physical condition.
This is a physically demanding industry and, as a commercial diver, requires that a person pass a physical examination each year in order to maintain their commercial dive license.
It is also important that a person be extremely safety conscious when training or working underwater.
Because of the hours spent under water, it is also important that the welder have no fear of working in enclosed spaces.
In addition, and this should go without saying, but if you partake in heavy drinking or use drugs of any type, this is not for you. When things go wrong in the water, the go wrong fast. So you need every advantage you can muster which includes physical and mental strength.

If you meet these requirements and want to earn a good income doing satisfying, important work, then attending an welder diver training school may be the perfect way to improve your earning ability and advance your career.
List Of Welder Diver Training Schools!

1. Divers Academy International
Erial, New Jersey
Source: http://www.trade-schools.net/divers-academy-international/

2. CDA Technical Institute
Jacksonville, Florida
Source: www.cda.edu

3. DIVERS ACADEMY INTERNATIONAL
Lakeside Business Park
Source: www.diversacademy.com

4. DIVERS INSTITUTE OF TECHNOLOGY
4315 11th Avenue NW
Source: www.diversinstitute.com/

5. HOLLAND COLLEGE, GEORGETOWN CENTRE
117 Ken Street
Georgetown
Prince Edward Island
Canada
Source: www.hollandcollege.com

6. HYDROWELD USA
Admin and Inquires Dept.
114 Dockside Circle
Weston, Florida 33327
USA
Source: http://www.hydroweld.com/

7. INTERNATIONAL DIVING INSTITUTE
1400 Pierside Street
Bldg. 190, Suite C
N. Charleston, SC 29405
USA
Source: www.ididiver.com

8. NATIONAL UNIVERSITY POLYTECHNIC INSTITUTE
3580 Aero Court
San Diego, CA. 92123
USA
Source: http://www.nupolytechnic.com/

9. SENECA COLLEGE
Underwater Skills Department
13990 Dufferin St., King City
Ontario, Canada
Source: www.senecac.on.ca/fulltime/UWS.html

10. SANTA BARBARA CITY COLLEGE
Marine Technological Program
721 Cliff Drive
Santa Barbara, California 93109
USA
Source: http://www.sbcc.edu/marinediving/website/

11. NATIONAL UNIVERSITY POLYTECHNIC INSTITUTE
3580 Aero Drive
San Diego, California
Source: http://www.nupolytechnic.com/

12. THE OCEAN CORPORATION
10840 Rockley Road
Houston, TX 77099
USA
http://www.oceancorp.com/

13. LOUISIANA TECHNICAL COLLEGE
900 Youngs Road
Morgan City, Louisiana
http://www.commercialdiveschool.com/diving

14. ACDE OFFICE
Tamara Brown, President
2500 Broadway
Camden, New Jersey 08104
USA
http://www.acde.us/

15. Belgium Underwater Welding and NDT Testing Courses
Napelsstraat 51,
2000 Antwerp,
Belgium.
http://www.divewise-tec.com/

16. Nigera Commercial Diver Training
Broka Shopping Complex,
87 Udu, Road Ovwian Warri,
Delta State,
Nigeria
http://www.pdscommercialdivecentre.com/

17. Scottland Commercial Diving and Underwater Welder Courses
Professional Diving Academy - Scotland
Unit 19 Sandbank Business Park
Sandbank, Dunoon
Argyll
Scotland
http://www.professionaldivingacademy.com/

18. The Underwater Center Training Divers & ROV Pilots Worldwide - Fort William, Scotland
Marine Walk
Carmichael Way
Fort William
Scotland
http://www.theunderwatercentre.com/

19. DiveSafe International -Campbell River, British Colmbia
PO Box 342 1003A Island Highway
Canada
http://divesafe.com/new-underwater-welding-course

20. Commercial Diving and Underwater Welding Schools in the United Kingdom/England (U.K.)
Hydroweld U.K. Underwater Welding Classes - West Midlands UK
46 Bedford Drive, Sutton Coldfield,
West Midlands B75 6AX, U.K.
http://www.hydroweld.com/index2.htm