Utility Trailer Plans: 
How To Build A Utility Trailer!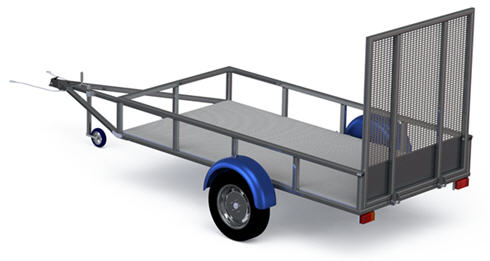 The current utility trailer plans are a design that is an ideal general transport.
The utility trailer drawings are 23 pages, and they were written and drawn up as a step by step guide. The actual plans are very detailed and clear. They were created to be easy for a novice to follow, but a veteran fabricator will find it a fun and challenging project as well.
Our engineer spent many hours coming up with a design that was highly functional yet simple to understand and build. He is a Mechanical engineer with over 20 years experience in automotive and industrial design, and automotive parts design such as frames/chassis, power trains, brakes, and much more.
Trailer features:
GVW: 3500 lbs.
Body size: 60" x 120"
Rear ramp for loading
AL-KO S 35 axle with torsion rubber suspension and electrical brakes.
The GVW (gross vehicle weight) it is up to 3500 lbs. therefore the trailer should be fitted with brake system. It is recommended an electrical brake system with controller. Please see specialized providers such as shown on www.etrailer.com.
The necessary parts which should be purchased are: axle, coupling, supporting wheel, fenders, wheels and rims, electrical system and lighting system, brake system controller.
The manufactured parts shown in the utility trailer plans include the usual rectangular welded pipes. In the plans the profile thickness is marked with "t"; for a normal trailer we recommend t=0.12".
The floor and rear platform plates are not represented in the drawing plans, but it could be plywood, aluminum or steel plate according to the your needs. We recommend that you use a perforated platform plate to provide visibility when driving.
The price for this 23 page, professionally drawn set of utility trailer plans is just
$29.95
$11.95.
---
---

GUARANTEE: If you are not satisfied with the plans for any reason at all just send us an email along with your receipt number and tell us why and we will refund your money. All we ask is that you do so within 30 days. Fair enough?


---
---

---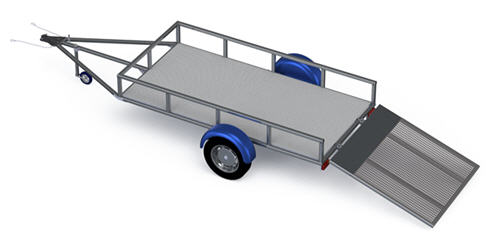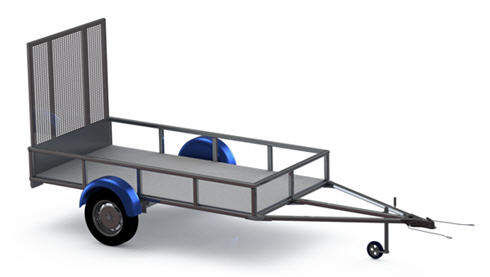 ---
Legal Stuff: Buyer agrees that the drawings and information received from this set of prints are for their personal use only and may not be copied or resold in any form. All plans and information are made without any guarantee on the part of the publisher, editors, contributors and authors, who also disclaim any liability incurred in connection with the use of the plans or information in the plans whatsoever.
Disclaimer: THERE IS NO WARRANTY NEITHER WRITTEN, EXPRESSED OR IMPLIED FOR DAMAGES THAT MAY RESULT FROM THE APPLICATION AND INTERPRETATION OF THESE welding project plans or welding blueprints (DRAWINGS). NO REFERENCE TO ANY SPECIFIC MANUFACTURE IS AUTHORIZED OR IMPLIED.
---
---