The Weld On Hardtail And Where To Get Killer Ones Cheap!
Weld on hardtail, not a common term many would have heard of, that is unless you are a die hard bobber and chopper fan. Those who wish to change the whole dimension of their bike to a bobber or chopper style without changing the whole bike can do so through the use of a weld on hardtail. 
The weldon hardtail basically means the rear half of the frame is changed by having a hardtail welded on to the back. This elongates the rear section giving the bike the interesting stretched and lower style of a bobber or chopper. A hardtail also removes the rear suspension and allows for extra power to be given to the rear tyre. 
The picture below is a 82-03 XL Sportster Weld On Hardtail by Road 6 Customs. It's a complete kit which is more expensive, but you might like the completed kit rather than a stripped down one...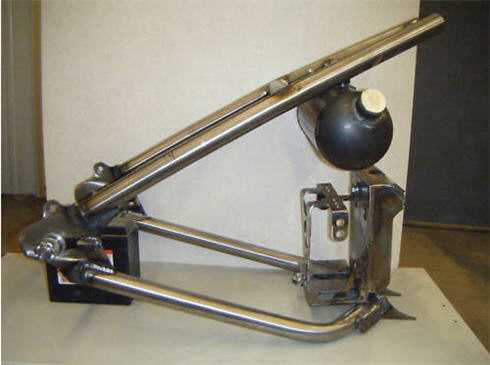 So Exactly What Is The Hardtail?
It is the metal frame part that runs from the top and bottom of the frame under the seat to the wheel at the back that connects to the frame. It is a simple elongated piece of framework that can change the look of any bike in a matter of hours by being welded to the frame. 
Buying A Weld On Hardtail...
To buy a hardtail that you can weld on to your bike you will need to review customer bike shops as they are the best place for custom built hardtails. You can also visit chopper and bobber forums online where many fellow enthusiasts may be willing to sell their weld on, or provide you with information where you can get one for your bike. 
When buying a weld on hardtail you need to ensure that you purchase one that will fit the frame of the motorcycle you have as the dimensions alter dependent on the motorcycle brand and type. 
Tips For Welding on A Hardtail To Softail Frame:
A lot of motorcycles come with a softail frame, this means it comes complete with rear suspension and a higher seated position for the rider, the question is how do you weld a hard tail to a softail? 
To do this you need to strip down the bike to the softail frame, here you cut off the tail section. To now add your hardtail section on the back the easiest way is to reposition the axle plate off the swing arm thus changing the position of the hardtail for its lower appearance. 
Many people try to change their softail to a hardtail appearance without actually adding a hardtail, this is done by lowering the motorcycle at the rear and hiding the suspension. Unfortunately this will never give the full on appearance and ride that a true weld on hardtail gives.