The Auto Darkening Welding Helmet Report...
In this auto darkening welding helmet article I will discus what I believe to be one of the best welding helmets for your money.
In addition I will provide basic information on what an auto darkening helmet actually does (if you are looking for a basic overview).
My Pick For The Best Auto Darkening Welding Helmet For The Money: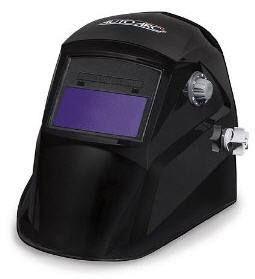 Hobart 770700 Auto Darkening Welding Helmet Review:
The Hobart welding helmet (Hobart 770700) is one of the most popular helmets of the auto darkening type for many reasons.
This Hobart auto darkening welding helmet has a variable shade lens. You will also love the speed at which is switched from one shade to another, and you can adjust this speed.
Although the color doesn't make this helmet work any better the new black color and design is very cool and give it the top-of-the-line look it deserves.
Features of The Hobart Welding Helmet
It is lightweight. The shell is only 1.1 pounds!

The ratcheting headgear functions well, and it has a sweat-band, and it can be adapted to a hard hat).
This Hobart Auto Darkening Helmet has magnifying lenses which are 2 inches wide by 4 1/4 inches in length.
Included with your order are five outside plastic protective lenses (clear), and 2 inside protective lenses which are also clear.
What Does it Cost?
The great news is that the Hobart auto darkening welding helmet is under $100 at most online shops. We found this very helmet on Amazon for $99.99 and they ship it for free.  You can't beat a good price, plus having it delivered right to your front door.
What Customers Are Saying About The Hobart 770700 Welding Helmet?
One welder is so happy with this helmet that he says it's "The best auto darkening helmet for the price."

Another welder 'loves' the darkening aspect of this helmet, and he also finds that it is comfortable, fits well, and it is quite durable.
One of the least reported aspects of a welding helmet, particularly an auto-dark helmet is how clear the lens is. A customer reported that the lens visibility is 'well beyond' his expectations and it improved his welds instantly. In addition he is so thrilled with the Hobart welding helmet that he claims that starting an arc is easier, and maintaining a quality bead is much easier as well.
And another customers says that this helmet is built well, it's light (which is important for long hours).
Review Summary:
Our research has shown us that the Hobart 770700 auto darkening welding helmet is a very good buy and one that has extremely good customer feedback.  We also found that Hobart has been in the welding business since 1917, always designing and testing their full line of welding products before making them public.
The price of the helmet is very reasonable and we feel this is a great helmet for the new or experienced welder.  The auto-darkening feature makes welding easier on the eyes and safer as well.  We highly recommend the Hobart auto-darkening welding helmet.
The Best Welding Helmet Period (Without Regard To Price): 3M Speedglass 9002
Here are some of the features of the Speedglass Welding Helmet:
The 3M Speedglass 9002 welding helmet lenses are considered to be the most versatile auto darkening filters for welding, period.
The Speedglass has sixty one control combinations for maximum comfort and efficiency for any welding procedure.
The 3M Speedglass has new detectors that are more sensitive and therefore are extremely reliable when switching from welding method to welding method, including low amperage TIG welding.
You get to control how fast the lens will change darkness levels to light.
The view from this amazing welding helmet is 3.57 inches high, by 1.68 inches deep, and it's as clear as can be.
It turns itself off after 30 minutes from the last arc: called Auto Off! Also has an instant off switch called 'Immediate Off'.
There are more features as well. If price is not an issue and you want the best welding helmet money can buy, get the 3M Speedglass.
---
Auto Darkening Welding Helmet 101:
Welders have always known it's imperative to wear a good welding helmet when working with welds however today's welders are even more savvy; seeing the benefits of using an auto-darkening helmet.

An auto darkening welding helmet protects the welder from exposure to strong light or heat. The protection is not just to enhance the quality of the work but is more for the safety of the workers at the work spot. We are all familiar with solar glasses which are specially made to observe solar eclipses.  The interest in solar eclipses has proved immensely beneficial to popularizing auto darkening helmets that are worn at difficult work places.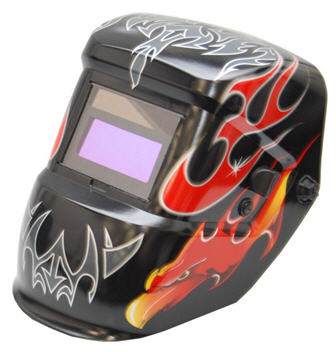 Wherever any work is done that involves welding it is of utmost importance that the person uses equipments which will protect his or her eyes. Welding causes the production of ultra-violet rays and these are extremely harmful to the eyes if exposed. It is here that workers need protection.
The protection comes in the form of auto darkening helmets. These are auto darkening helmets that look very much like those drivers helmets used by the two wheelers. The only difference is that the darkening helmets reduce to a very large extent the glare from the exposed light and cut off harmful radiations which otherwise may have reached the eyes.
The auto darkening welding helmet has a polarized lens that was heavily darkened in order to allow only a very small percentage of the light to get through. In other words, wearing an auto darkening helmet in normal situations will not allow one to literally see anything. However an auto welding helmet functions differently. It is adjusted to the level of exposed light and starts to darken as the welding work starts. When this is used in tandem with any welding work, the welder just sees the welding flame and continues with his work.
The auto darkening welding helmets have gained an immense popularity these days and are used as standard equipments for any type of welding work. The market has cashed in on these tools and there is a huge variety of helmets one can choose from. The two most popular ones are the battery powered helmet and the solar powered helmet. The former uses batteries while the latter makes use of solar energy.
People buy equipments like darkening helmets for various reasons. For some it's a hobby. Those are to be rarely used. For others, welding is a profession. For such professional welders it is advisable that they go for the best quality helmets and do not really bother about the cost.
What does an auto darkening helmet do when it is exposed to light?
The helmet darkens very fast. It is astonishing but true that the lens darkens in about 1/25,000th of a second after the exposure to light.  For the professional welders the lens with speeds of darkening less than this need not be considered. If there is a time delay between the start of the welding flame and the darkening of the lens, the eyes could still suffer damages. The problem in using auto darkening welding helmets which are slow to darken is that repeated exposures to a bit of flame light over a period of time, sets in the damage to the eyes. One may not even be aware that the eyes are under undergoing stress till some damage has already occurred.

These days an auto darkening helmet is equipped with many handy features; most of them are related to safety management and protection. Some have delay switches which prevent the welder from getting flashed. All in all, the auto darkening welding helmets are provided with great options integrated in resourceful kits and they are a must for anyone connected with welding.