Bucks Patterns and Forms!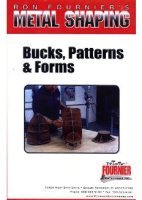 Bucks Patterns and Forms DVD is another resource that any fabricator or metalshaper must have in his or her library. Here's why...
In this DVD Ron gives you step by step directions on how to create different types of bucks. For example, you'll learn how to build a sectional fender buck in a step by step format. It is realy fun and exciting to learn this technique. 
That's not all. You'll also learn important topics such as: construction differences between single use and low-production bucks, determining the frequency of stations, and you'll get material and fastening recommendations.
Ron Fournier is a unique metalshaper in that he is not only a master metalworker, but he has a gift for teaching complicated subjects in a simple, easy to understand manner. And he makes it interesting.
Length: 60 min.