21 Farm Welding Projects!

All the farm welding projects listed here were either built or have been built by ranchers and farmers. So if you want to make tools for repairs and for your shop, or if you want to build equipment for farming and livestock, this will give you ideas to work with.
I also have some actual plans for farm equipment as well listed below.

First, here are some actual farm welding projects completed by our subscribers:
Tractor Grill Guard: This grill gaurd is a simple build but it's solid and nicely done. It was built by William Joyce, (Paducah KY).

He built a tractor grill guard for his Case JX 95 tractor from metal he had at his farm.
First he made measurements to make sure he had plenty of metal.
Used 3x3 square tube and 3/4 by 4 inch flat stock.
Made a 45 degree cut the square tube to length then squared and used his mig welder to tack the tube.
Marked and drilled the flat stock for bolts in the tractor frame.
Bolted the flat stock to the tractor and tacked the square tube to the flat stock.
Then put the grill guard on his weld table and finish welded all joints with 6010 root with 7018 cover.
Buffed all welds flat and painted.
You will notice the free area that is for storage for tool box etc. Very useful:

Electric Sleeve Hitch: This farm welding project is a little that was built by Bob Dwyer (Hannibal , mo). He claims to be a beginner welder but 'getting better'.

He made this electric sleeve hitch for his atv our of scrap angle iron and square tube. The winch was purchased at a farm supply business for $80.00. Bob used a Lincoln pro-core 100 110 volt wire feed welder on this job.

Extra Wide Front Loader Plow: This is one of those fairly massive farm welding projects by Patrick Rodrigue (Quebec). All made from scrap metal!
17' 3'' wide plow made with structural beam 21@84 and half inch galvanized plate, quick attach.

1'' thick plate.
Side View Custom Welded Snow Plow.
It weights about 2000 LBS.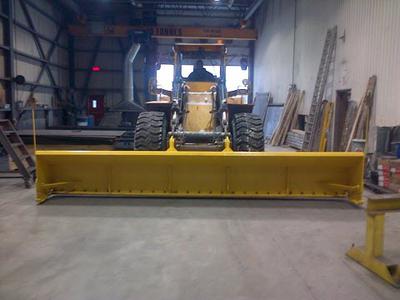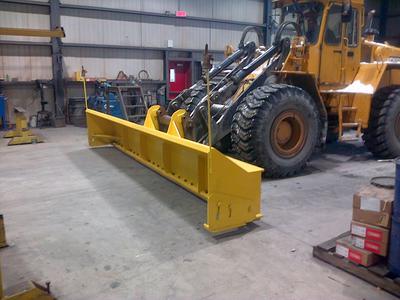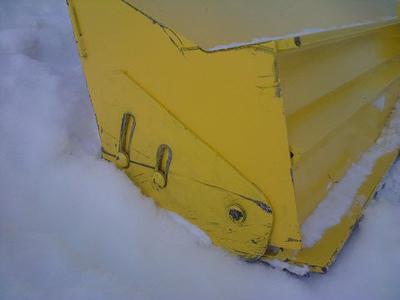 Headache Rack: Build a headache rack for your truck. This is a nice one that was made by one of our long time subscribers.
He bought the metal (2" square tube on the top bar and 1 1/2" square tube in the interior) at a local metal building supply,and it only coast about $100 in metal in it.
Homemade Fence Stretcher: by Bob Dwyer (Hannibal, MO). This fence stretcher might come in handy once in a while. He built this homemade fence stretcher from scrap. It's used to stretch chain link or other fences.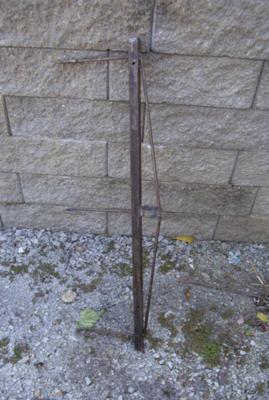 Want To Make A Fuel Barrel Stand?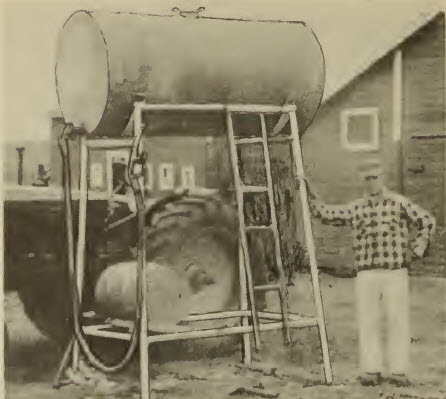 A fuel barrel stand, also known as a gravity flow fuel towers, could be a handy project for some ranchers or farmers. Here's how to build one:

Refer to the parts list (bill of materials) below:
First, cut the 1.5 inch pipe into the pieces that will make the cross pieces and the legs for the fuel barrel stand. Keep in mind that you can fit them better when you weld them if you flatten the coss piece ends a tiny bit.

Weld the frame of your stand.
Take the .5 inch x 3 inch flat iron and make the curved parts for your barrel into (the fuel tank). You will want to have the ends of the flat iron hook on over the crosspieces on the top of your fuel barrel stand, and then weld them in position.
Make yourself a ladder as seen in the plans. this should be a snap.

To support the oil barrel, put two pieces of angle iron down and weld them for the supports.
Make a hose nozzle hook out of the .5 inch rod and weld it in place.
See the plans below for exact measurements and details on this farm welding project.
Fuel Barrel Plans:

Click the images for larger views.

Fuel Barrel Materials List:
1.5 inch pipe: 60 feet.
8.5 feet: 3 inch x .5 inch feet iron.
8 feet: 2 inch x 2 inch x .25 inch angle iron.
12 feet: .75 inch x .75 inch x 1/8" angle iron.
3 feet: .5 inch pipe.
1 foot: .5 inch rod.

Self Feeder Project For Lambs or Barrows:

You'll need a 55 gallon steel drum for this farm welding project. But understand that you should never weld anything that had anything flammable in it or had a coating that can cause toxic fumes and gasses.

Get a quality 55 gallon steel drum and use a chisel to cut top out. In addition, cut a seven inch hole (7" diameter) on the bottom of the drum and in the middle.
Then, make a 7" spout (in diameter) that is 7.5 inches in length. This spout will be put over the hole you made. Don't weld your drum if it held anything flammable. The only time you can weld a drum that had something flammable in it is after it has been thoroughly steamed and cleaned and washed, AND you should fill the drum with water up to where you will be welding.

You'll need a lid that fits tightly on the barrel. Make this out of heavy gauge sheet. And weld a handle onto it.
Now make your base. What you want to do is use some like a rake wheel (anything like that which has a three foot diameter). Then cut the hub out of it. Use the spokes as a support for your barrel which will be approximately ten inches over the base. And then weld them to the 55 gallon barrel. You'll need to bend the spokes to accomplish this, and you should be able to do this by heating them up and bending them in place.
You can make your base out of 2 inch x 10 inch wood planks. 
Use hook-bolts or you can use Ubolts to attach the base and the wheel securely.

Self Feeder Plans:

Click the images for larger views.

Self Feeder Plans Materials List:
Steel drum; 55 Gallon.
Wheel: Steel. Diameter: 3 feet.
Sheet metal pipe: 7 inches of sheet metal pipe 7.5 inches in length. Or make it from metal.

Sheet metal: Heavy sheet, 3 feet x 3 feet. Use this for the cover.
10.5 foot x 1.5 inch x 1/8" strap iron. Use this to make a handle and rim cover.
4 wood plans: 2 inches x 10 inches x 3 feet 2 inches. Use these to make your base for the self feeder farm welding project.
Hook-bolts or Ubolts to attache base to wheel.
Farm Welding Project Ideas:

Here are some easy and more complex ideas if you are looking for something to work on:
Tractor Trailer.
Table Saw.
Tractor Mounted Saw.
Wheelbarrow.
Bag Cart.
Post Puller.
Post Hole Digger.
Sheep Cutting Gate.
Hog Water Trough.
Live Animal Trap.
So what did you think of these farm welding projects, ideas, and plans? Hopefully you found them helpful? Well, I have good news. I have more vintage farm welding projects plans and will add them in the future but I would like to hear from you first.
What do you need, or what have you built or are working on? I want to know. Share it. Send me an email using our contact form and we will put your project on our site, or if you have a project that you need plans for let me know and maybe we can find them or put them up. Thanks :-)