Create Metal Garden Art For Fun or Profit!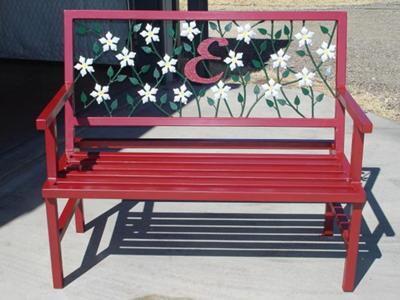 If you want to make metal garden art as a fun project or to make money selling metal art, then this is going to be one of the most helpful articles you'll read. At least, that's my goal!
By the way, the gorgeous decorative metal garden bench above was created by one of our subscribers, JD Echols.
I am going to provide some tips and a guide to making garden art including a simple garden stake which sells like hot cakes, so read this whole article...
Anyway, metal (steel) garden art is fast becoming the must have aesthetic design for any garden. Many find that a well designed and well placed piece of garden art really brings a garden to life and injects an eye catching view.
The only issue with this increased demand in metal garden art is that there are no real outlets for buying them with most metal garden art being created by hobby welders like yourself. For this reason we thought we would put together a short report on how you can create metal garden art, as well as understanding how to source the items needed to create interesting and unique designs.
Metal garden art is quite an open form of designing, for these reasons you are allowed free reign to use your artistic side to come up with unique and interesting designs. You can also use many metallic items in the artistic process to bring your metal garden art to life.
If you are looking to spruce up your garden, or maybe looking for a way to supplement your income through your hobby, then metal garden art will fulfil your requirements while also allowing you to hone your welding skills too.
Why Metal Garden Art?
In recent times there has been a huge demand for metal garden art. Where this started we do not know, but the assumption is that some hobby welders started creating art for their own gardens and word of mouth spread from there.
What we do know is that many people are clamouring to jump on the metal garden art bandwagon and because of this you find that people have begun selling products on Amazon, Etsy and other sites.
The lure of metal garden art stems from the organic nature that metal can give, while also giving unique and interesting designs for the garden. You will find metal sunflowers standing proud with smiles on their faces, flags on poles, suns, moons; pretty much anything people are interest in.
One of the interesting elements of garden metal art is that while the different pieces of art are unique, they all follow a similar design as you will find out by following this guide.
Types Of Garden Art: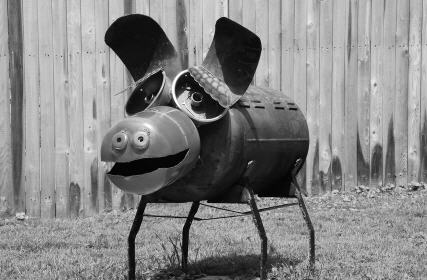 There are different types of garden metal art, these different types vary widely on what you wish to achieve as a desired end result. To give you a flavor of the types of garden metal art on offer we have compiled a list of the top three types below.
Animals:
Small metal animals such as birds and other animals you could expect to see in your garden are hugely successful in garden metal art. Many people love to walk into their garden and see well designed animal garden metal art placed in strategic places, they also provide a wonderful talking point for anyone visiting.
Masks:
Masks are great metal garden art which requires less welding and more metal forming. Mask from across the globe are another type of metal art many find interesting and like to add to their gardens. The beauty of mask garden art is that they can be put anywhere, from fences to walls, trees and more, the options of where to place tribal masks means they are very popular. Masks have been made based on tribal masks, Halloween masks, old pagan green men, the sun and moon and much more.
Garden Stakes:
The most sought after of all types of garden metal art is the garden stake. This can be as short or tall as you want, but essentially it is a stake pushed into the ground with unique and interesting designs adorning its top. Whether you want a sunflower, a flag or even a boat on the top, you can make garden stakes fit your personality and bring life to your garden.
Table and Chairs:
A not so unique idea but one that is a solid winner is to fabricate a garden table and chairs. You can do anything from a small round table with two chairs, or you can create one that is larger with four chairs or more. However, a garden table and chairs is typically in the smaller category.
Garden Bench:
A simple, yet easy metal garden art project is a garden bench. But don't skip over this garden art just because it's easy and common. You can get very creative with a garden bench, and if it sells well you can punch them out in a day or so. Check out this gorgeous garden bench made from our plans.
Fantasy:
Another idea is to create fantasy creatures like fairies, gnomes, elves or any creature you can think of. They can be stand alone creatures, or you can put them on the garden stakes as described above.
Garden Arch:
A garden arch is a fun project for a hobby welder. The arch pictured here is a very basic 7.5 foot metal arch from LaCrafts. As you can see it's so simple you could weld it up in minutes.

Better yet, a garden arch is something that every homeowner with a garden would like. You can also build these for wedding planners or wedding companies because they are always looking for cool ideas for offsite weddings (so build one that is easy to transport and show off your wares).
Grill:
Why not build a grill for your garden? Building a simple, but aesthetically pleasing grill is quite easy for an intermediate welder. And the use you can get from a home built one will far exceed the cost of buying a cheap Weber barbecue grill from Home Depot.
A grill is not metal garden art, but it seems to fit right in. After all, you need to eat something while your working with metal, right?

Metal Garden Art Tools:
You may be reading this part thinking that you already know what you need. This being said it is important to read through and understand the tools you should have to hand in your workshop prior to getting started with garden metal art.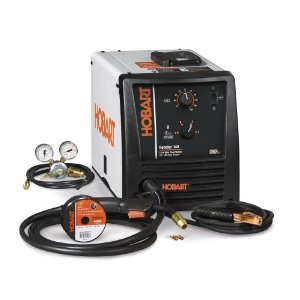 Mig welder:
A Mig welder is the best welding option for garden metal art as we will be using steel as the material of choice. The reason we use steel is because of its less expensive nature, but also because of the weathered look it gives after spending time outside in the elements.
Aluminium is too shiny and doesn't give that organic feel steel delivers and it is for this reason steel wins every time.
Angle Grinder:
An angle grinder is a very important part of your metal garden art tool kit. The angle grinder is not for sanding off the weld to give a smooth texture, but actually to give you a tool to add more rough and rugged look to your art. With the angle grinder you can go to town with a sanding or grinding disc making artistic impressions in your work.
Tin snips:
Tin snips are another must in the garden art tool kit. This is a piece of kit you would probably have missed. The tin snips are a great way of cutting thin gauge metal with a precise or a haphazard style to add texture to your work.
Vice:
A vice is used to hold your garden art tight while you are carrying out any type of work, this is especially important in both animal and garden stake designs.
Metal Bender:
Whatever type of metal bending device you use, this is a great tool in adding aesthetically natural shapes to your work such as a winding plant stalk or slightly bent leaf. Metal can be a quite rigid material so having gentle bends will help it to merge somewhat into the garden.
Acetylene torch:
If you are looking for ways to cut holes into your metal garden artwork or to add some unique texture, then the acetylene torch is the way forward. If you do not have one then doesn't worry as it is not a prerequisite but nice to have.
Mallet:
The mallet is another way of moulding your garden metal art as it allows you to knock thin gauge metal into the shapes you wish by using a wooden board underneath.
Finding materials:
While many people will feel that building the metal garden art is the fun part of building stakes, animals and masks, the truth is that finding the materials in the first place is just as fun.
Before embarking on making your garden art design, you need to think about what you wish to create. You may want to make something that looks clinical and stands out in the garden, for this you may simply need to buy metal sheets and angle iron or box section.
For those looking for a more organic design that stands out and looks even more appealing there is an alternative. The alternative is to look around for different metal objects to use as part of your design. These objects could be anything you find from nuts and bolts to old parts from cars.
Now the question is where to find these interesting items?
The best option for this is to visit a local scrap merchant and ask if you can have a look around for some items and pay a nominal fee. You will find more scrap merchants will be more than happy for you to look around and take away interesting items that have no value other than to melt down and reuse.
This is the fun part as you get to look around for interesting objects at a metal scrap yard and take away all the items you need to make something unique and special.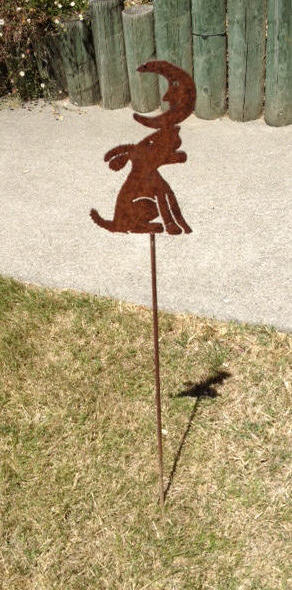 Creating your design:
Creating your design needs to be done before you actually start building your garden metal art. Without a design to work from, you will not be able to create a complex and interesting design that will capture the imagination.
For this we suggest taking a plain piece of paper and drawing a three dimensional model of what you want to create.
Once you have your drawing you want to use the reverse side to write numbers down the left and then next to the numbers you need to write the items you have found.
Now going back to your drawing you need to put numbers next to the different elements on your drawing and also any measurements you need to help you build your art to the right size and perspective.
Building garden metal art:
You should be ready to start building your metal garden art. We could go into details about all t he different types you can build but we have decided to stay with the garden stake idea as this is the most sought after and also our favorite.
The first part of building a metal garden art stake is to find the right stake for your design. You could go with buying some box section or tubing and welding or cutting the bottom into a stake, but there are alternatives.
Many people like to go with taking one of the spikes of an old wrought iron gate and using this as it already carries the weathered look you want and carries a spike at one end.
Once you have your stake you can start building up your main piece at the top of the stake. This will involve putting a square or round metal plate at the top to weld your pieces too and start building up your master piece.
Using your items bought, or found at the scrap yard, create your main piece and the top of your stake.
Once your main piece has been created, you can set about adding items to the stake to finish off the overall design and giving it the full aesthetic view.
Sunflower Garden Stake Metal Art Example:
If you are unsure on a design and want some practice, why not follow our own garden stake design where you can learn about the process and possibly come up with interesting ideas of your own.
For this project you will require:
Bolt Nuts of varying smaller sizes (a good 20 to 30)

A metal sheet

Circular metal item such as a bucket

Wrought iron fence post

Small diameter rod
8 Steps To Making A Metal Garden Art Sunflower:

First you need to take the metal sheet and cut a circle some 3.937 inches (100 mm) in diameter. Now weld this on to the top of your wrought iron fence post.

Once complete take your bucket and using an acetylene torch, cut the bottom off the bucket. If you have a metal plate or something similar you can move on to the next step.

Take your sheet and cut out 10 to 12 triangular shapes and weld them to the outside of the bucket bottom you cut out. This will be the main feature of your sunflower.

Now take your nuts and weld them in the middle of the bucket bottom to act as the sunflower seeds. You can weld as many as you like to cover the total area of the circular bucket bottom.

You should have a metal sunflower head; weld this to the circular metal piece at the top of your stake.

Take the small diameter rods and cut them to lengths you wish to act and branches. Bend these into interesting and natural shapes and weld these along your stake.


Use the left over metal sheet to cut out leaf shapes of varying sizes. Use your mallet and a circular piece of wood such as a piece of tree trunk to mold your leaves into rounded natural leaf shapes. Now weld these to your branches and add them to the stake.

You should now have an interesting sunflower for the garden that is bespoke and natural looking. Do not paint it and let the elements weather your sunflower to give it an interesting rustic look.
The above is just one example of how you can make your own metal garden art. Metal garden stakes are all the rage and there are many different designs you can create with a little artistic thought.
Common Questions On Making A Garden Stake:
I am a novice welder that wants to make the metal garden art like the garden stake on this page, but better, he he. No offense but that one is a little ugly :-)

Question:
What kind of steel rods (type and size for mig welding) do I need, and then what kind or size sheet metal do I need for the the pieces for the actual art? Thank you for your help. This site has been a great inspiration for myself as new to welding.
Fred Ponty, NC.
Answer:
Thanks for your kind words! For the garden stake, hot roll round is the best. It'll rust, but I personally think that looks good. I would go with 1/2 " or 3/8", a little easier to keep straight. 
As far as the plate for the garden art part of the stake, get it as as thin as you can work with. If your going to torch out the design, 1/8" is as thin as I'd go.
If your cutting it out with a grinder or have a plasma arc, you could go with something a little thinner. Generally, a little heavier metal is easier to work with.
If you enjoyed this article on how to make garden art for fun or profit, please share your ideas through Facebook, Twitter, or whatever social media outlet you prefer. We would greatly appreciate it!