Money Making Welding Projects: Things To Do To Make Money Welding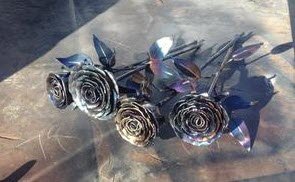 Many of us want to discover money making welding projects. And it's quite simple really. Find what people want, and then make it.
Not sure what people want?Here are two simple ideas to to get you started:
1) Uncover niche hobbies that people are spending money on and then do some research on what they want, need, and request. Go to forums and trade shows. Take notes. Then start building your money making welding projects.
2) Businesses want to wow their customers and they are proud of their achievements. If metal art is something you are interested in you can create signage and metal art for businesses. Target a business niche that is likely to want something of this nature like contractors, and mechanics. You may want to donate a few pieces schools or churches to get some visibility, referrals, as well as using it as an example piece.

Side Bar: The hand made steel roses above (which sell like hot cakes) were made by Breton Mealing.
These are just two simple strategies to keep in mind. I have a lot more below so lets dig into the other money making tips and ideas...
How many of us have pursued a particular pastime/hobby only to then wistfully wish that we could actually derive some profit from this activity either in order to defray the costs associated with it, or simply as a means of supplementing our income?
One of the great benefits about welding is that in addition to it being a very exciting and challenging pastime indeed, it is also an activity that can produce many money making welding projects. You can actually make a (lot of) money from them.
There are a number of welding projects to make money, however, it is important to appreciate that there is no pre-determined, rigidly defined list of welding projects to make money because in reality, ANY welding project has the potential to net you profit. The only qualifying condition in all of this is that the quality of work is to the standard required and expected by the client, and that you actually provide them a product which is suitable for them both in function as well as in form.
You may want to limit yourself to friends and family first for one simple reason: by restricting yourself to those nearest and dearest to you, you will not need to worry about costly delivery fees and the logistical headache of ensuring that the item is delivered and received on time and when required. But you don't want to rely on family and friends for long...
Here are specific money making welding projects and ideas: A firm favorite among history buffs, military fans and collectors alike are model war machines, i.e. tanks, airplanes and even replica firearms and so there is plenty of mileage in this particular niche market. During the course of the Great War there was an increasing usage of biplanes including the likes of Tommy planes. Fairly straightforward to make, these airplane models can be very profitable indeed.
A word of caution: you may find it of practical use if you actually rely upon stainless steel as your main material of choice for creating the planes as the stainless steel makes it very easy for the plane to be painted. 

Money making welding projects tip: The fact that it is also very easily removed makes life a lot easier for both you as well as the customer, because if the paint is not to the customer's liking, it will be fairly straightforward to simply remove it and then repaint it with a color scheme of their choice. By using the stainless steel for your model airplanes this means that you can also experiment with the different styles and color schemes used during this era.
Rather than trying to spread yourself too thin on your money making welding projects, you may want to choose a few niches to specialize in in order to fast track your experience.

By focusing on a particular genre of welding projects, this means that you will become an expert a lot quicker and more easily which in turn means your productivity will be guaranteed. This is because you will have a quick turnaround time, will have a better understanding of the overheads that will be typically incurred for that particular project.
These Projects Will Make You A Few Bucks!
The projects in Killer Welding Projects Volume 1 can be built and sold for a significant profit. Or you can build them for your own use at home or in your shop.

There are ten projects with detailed blue prints and step by step directions on fit up and welding. You'll even get directions on how to set up a simple jig as well as a more advanced one. So you'll build your knowledge as well as these killer projects.
Once you are feeling confident about your welding skills, you may want to then consider taking your money making welding projects and services online. It maybe an idea to have several welding projects under your belt so that you can take photographs of them so that a potential customer can have a better idea as to what you can provide and the level of skill you can offer. Whilst you may need to charge less in the beginning to ensure that you get trade, once you have established yourself you can then move onto to charge higher premiums for your services.

Make Money Welding Garden Art: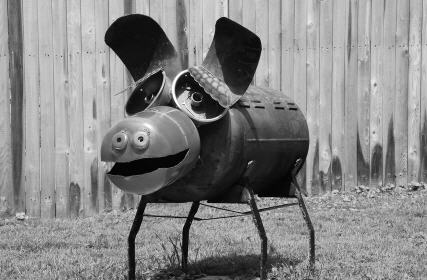 Millions of people have gardens, and most of them want them to look nice. Metal art in the garden is something that is always a big seller. You can make something as simple as a garden stake, or something as large as a Garden arch, bench, garden wagon, or a table with chairs. You can also make small welding art projects with metal creatures and animals. This is a big money maker for sure!

Another area to consider is the miniature art arena. What you can do is find a niche group of people who are passionate about their interests. Motorcyclists and bikers are one example. Another example are truck owners. You can even dig deeper in the niche and find groups like swamp buggy racing, or rock climbing trucks etc. There are may niches. What about drag racing?
The key is to find a passionate group and sell them a welding project that you created for them. The great thing about find a niche is that many of these niches have events that you can set a booth up at, and you can advertise your wares on their websites.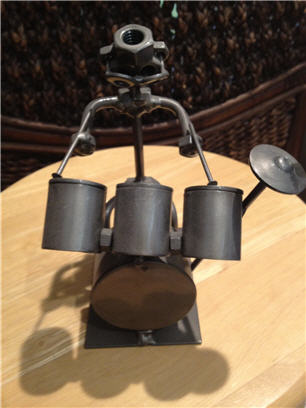 Tip: Make sure the niche you target has money. For example, a really cool metalwork project would be to weld together a miniature drum set. Unfortunately, most drummers don't make very much money (except for me). But, you never know. If they really like it they will buy it, or maybe it will make a nice gift. So test it out, but think carefully about the niche you choose.
What About Professional Gigs?
Working as a gun for hire for construction companies and metalwork shops is one of the more popular routes and it can be easy money, if you market yourself properly. But that's the key, you have to market yourself. You can't simply buy a welding rig, and get all the tools and set up your billing system and expect the business to come rolling in.
You have to:
Get your skills in front of the right people
Be visible when they are searching for someone with your skills.
When you create money making welding projects you won't ever work a day in your life again :-)
Related Articles:

---