Build A Mechanics Creeper:

The plans on how to build a mechanics creeper is in image form below. The list of materials needed to build it are just below the plans.
A word about these plans and directions: I found an old book of plans for farm welding projects that has been long out of print. But many of them are still quite useful and I don't want the to go to waste. This set of directions on how to build a creeper was one of many of the plans in this great book.
Now, I could draw up something new but I have a thing for the old way of doing and making things and why fix something that 'ain't broke'?
These plans are on building a mechanics creeper are very simple so if you are looking for something challening this is not it. But if you want a good first time or beginner project this is ideal.
Why not build simple useful things that you or a friend can use?

Simple Directions On How To Build A Mechanics Creeper:

Refer to the bill of materials below:

Cut up your pipe and be sure to make forty five degree miter cuts as you do so.
Make a rectangle out of the pipe for your frame and weld it together.
You'll have three braces which are flat of course, so weld these to the frame.
As you can see in your materials list, you will have four inch plates available. Weld them into the corners of your frame.
Do you see the casters? You need to make holes in the plates you just welded to fit them into.
Now, take your plywood (which is three eighths inch) and get it inside your frame and it should sit nicely on the plates and braces you welded.
Use your flat head bolts to secure the plywood.
Lastly, take your two inch by four inch and use some sort of soft material like foam or some sort of rubber and and cover it. After you do a good job of that you will attach it to your new mechanics creeper and use it as a head rest.
Sit back and admire your work :-)
Plans For The Mechanics Creeper Project: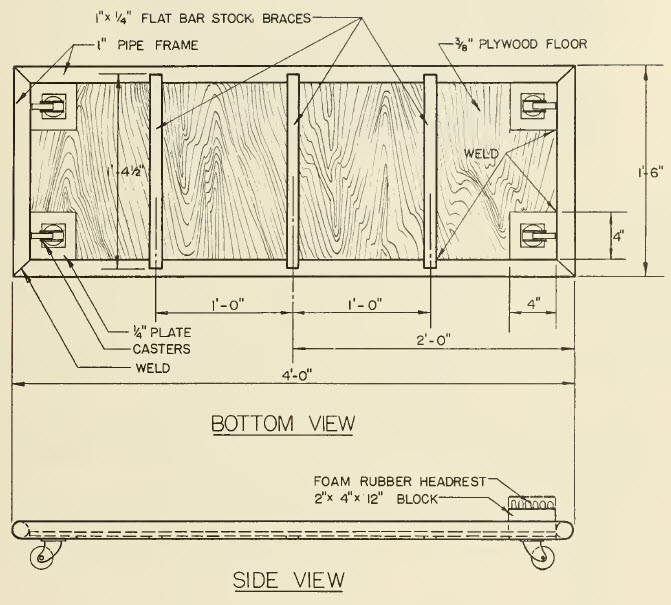 List Of Materials:

Eleven Feet Of Pipe: Get either one inch, three quarter inch, or half inch pipe.
Four Pieces Of Plate: Four Inch Square Plates. Quarter inch plate
Four and One Half Feet Of Bar: Get inch by quarter inch bar (flat).

Four Casters: Get plate casters.

Plywood: Get a sheet of three eighths inch or quarter inch and get it one and one half feet by four feet.
Wood Block: A two inch by four inch block that is one foot long will do just fine. Cover it with comfortable material because your head is going to be resting on this thing, a lot! How about foam rubber?
Stove Bolts: Get a bunch of these guys. Get three sixteenths or quarter inch.

Copyright WcWelding.com All Rights Reserved.