Truck Welding Bed: Selecting The Right Bed For Your Truck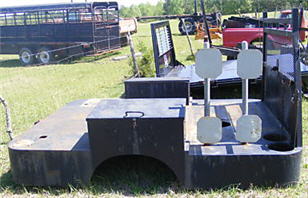 The welding bed picture above is courtesy of Ebay seller tradingsmygame.


Installing a welding truck bed on your truck so that you can get your welding business mobile will give you a big advantage over welders in fixed locations.
You can go to your customers in need rather than them coming to you.
A welding truck bed makes it easy for you to transport all of your welding materials and accessories from place to place, which means you apply your welding skills no matter where you go. There are many different types of welding beds available, however, which means it is important for you to do your research in order to be certain you get bed that best suits your needs.
Exploring Types of Welding Truck Beds
There are two main types of truck welding beds you can use: custom and pre-made. While pre-made welding beds can be less costly than custom-made beds, some welders prefer having them custom-made. This way, the bed can be designed to fit with a specific truck and the accessories can be selected and laid out in the way that best suits the welder's needs. Some accessories and features that are typically included with a welders bed include:
Toolboxes
Space for oxy/acetylene cylinders
Workspace, where tools such as vices may be added
Bottle racks
Recessed welder sump
Gooseneck ball
Depending upon the size of the truck and the welder's needs, the size and placement of these accessories may be varied.
While most welding truck beds are installed on the truck by drilling holes in the bed of the truck, there are also extendible beds available that do not require drilling. These beds offer the added convenience of being able to be rolled out of the bed, which provides easy access to parts and tools.
Choosing Between New and Used Beds
As you begin your search, you will find that there are both new and used beds available. Purchasing a used one has the primary advantage of offering a reduced price. Whether you pick up a used welding bed at a junkyard or purchase one from someone who has one for sale, you will likely spend a fraction of the cost on a used bed than what you would expect when buying new.
A used welding truck bed may be a very good route to take. Just make sure you find one that doesn't need a whole lot of work. Because the work and money you have to put into repairing it and customizing it to suit your needs may not be worth the money you save. Therefore, use a little caution and ask a lot of questions when purchasing a used welding truck bed. This way, you can be certain to weigh the benefits and drawbacks when deciding whether buying used is right for you.
---
---